Video • Low-dose CT
Reduce scan time, enhance workflow with Scenaria View
Jean-Luc Budillon, President & COO of Hitachi Medical Systems Europe, introduces the Scenaria View CT system. With its 80 cm gantry, it is one of the widest CTs on the market and perfectly equipped for low-dose imaging. The new SynergyDrive software reduces scan times and thus, enhances clinical workflow.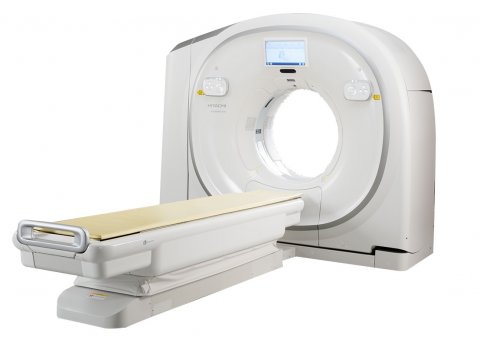 Scenaria View continues its evolution for doctors, operators and patients, driving you ahead with a superb low dose CT. Hitachi's Intelli IPV technology (Iterative Progressive reconstruction with Visual modeling) enables both, significant noise and dose reduction while preserving an excellent image texture, providing outstanding image quality and a relax patient experience.
Supreme examination speed is being achieved by SynergyDrive, a high-speed image reconstruction tool that impacts on a wide range of scan tasks, massively shortening scan time thanks to its sophisticated automatic features.
The industry leading 800 mm bore combined with its lateral side slide table reduces patient anxiety and allows easy patient positioning. In addition to the wide aperture, the opening has been given a smoother, streamlined shape to enhance accessibility to patients. Even though the aperture has been widened, the gantry still remains compact.
"Scenaria View changes the view of CT examinations", says Budillon at the European Congress of Radiology (ECR) 2019 in Vienna. "It combines all of Hitachi's experience and expertise in a remarkable new product providing an unmatched combination of speed, comfort and quality."