Breast cancer: new method is more effective than mammography in women with dense breasts
"Molecular breast imaging" (MBI), a new scintigraphy method developed by US researchers, might improve early detection of breast cancer in women with dense breasts. The results of an initial clinical study were recently presented at the Breast Cancer Symposium of the American Society of Clinical Oncology (ASCO) in Washington, DC, USA.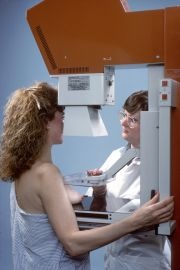 "Women with dense breasts and those at increased risk for breast cancer are not served well by mammography. MBI's ability to detect cancer does not seem to be affected by mammographic density," lead researcher Dr. Carrie B. Hruska, a bio-engineer at the Mayo Clinic, Rochester, Minnesota, reported.
For several years, Hruska has been refining MBI. In this method, patients are intravenously injected with a radioactive tracer called Tc-99m sestamibi which is preferentially absorbed by tumor cells. Then, views of the breast are obtained with a semiconductor-based dual-head gamma camera which is said to provide much higher resolution than conventional scintigraphy. MBI can thus detect cancers even in dense breasts which are almost impossible to image with traditional mammography.
In this first large MBI study therefore only women with dense breasts were included. The second criterion participants had to meet was increased risk of breast cancer due to family history, a genetic mutation associated with breast cancer or previous radiation therapy to the chest.
940 women were screened with both MBI and mammography and craniocaudal and mediolateral oblique views of each breast were obtained. Two radiologist read the MBIs while blinded to the mammographic interpretation and all ancillary patient information.
MBI detected ten of 13 cancers while conventional mammography detected only three. Both modalities combined detected eleven of the 13 tumors, eight cancers were detected by MBI alone, one by mammography alone.
These are promising results particularly since with MBI the false-positive results were lower (7.7 percent) than with mammography (9.4 percent). Of the 36 biopsies prompted by MBI, 27.8 percent were positive for cancer, of the 17 biopsies prompted by mammography, 17.6 percent were positive for cancer which means MBI has a higher positive predictive value than mammography.
MBI though has one major drawback: high radiation exposure of 740 Mbq due to the application of the tracer. Another detrimental factor are the costs which are said to be about USD 500 per exam and are thus significantly higher than for conventional mammography. On the other hand, MBI is less expensive than magnetic resonance imaging (MRI) for which US institutions charge up to USD 1000 per scan. Prospective studies comparing MBI with (radiation-free) MRI are now being planned. Should MBI turn out to be superior to MRI many radiology centers will no doubt consider introducing the new modality which, however, will remain to be limited to high-risk patients due to significant costs and radiation exposure.