Report • Cooperation
Big firms forge a new partnership
An alliance between Siemens Healthineers and IBM Watson Health aims to support service providers in the healthcare system, such as hospitals, health networks and other Providers.
Report: Julia Geulen
A top-class technical solution consisting of three main components is to help ensure better treatment for many, at lower costs per head. 'I believe we can make an important contribution towards evidence based medicine,' says Arthur Kaindl, General Manager for Digital Health Services at Siemens Healthineers.
Enterprise Performance Manage­ment is one key component and can be compared with a storage archive. Looking at a group of hospital patients, the management system is used to analyse classic performance indicators, such as average duration of patients' stay, or the adherence to standard guidelines during treatment. The data required is networked between the different in-house IT systems, consolidated and evaluated. It forms the basis for reimbursement of the services provided on the part of the health insurers and other operators and it can also be utilised to optimise processes and reduce costs.
Looking at the individual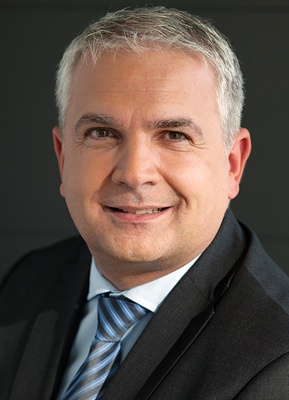 A further component, i.e. the Watson Care Manager, comes into play when the issue is not the analysis of a defined group but the individual care of patients. Example diabetes management: This platform consolidates and processes all available patient data. This includes data from the hospital information system along with image and laboratory data. Based on this data, the system can then help doctors and nurses to choose the best treatment. The high added value of this solution, and – unique on the market to date – the combination of all image, laboratory and pathology data, complemented by information from the patient file, is analysed in real-time.
'The treatment path is available immediately after the image has been generated,' Kaindl points out. This is a big advantage during the diagnosis and treatment process, especially when there is an acute problem, such as a potential stroke. In view of the increasing number of chronically ill patients the extension of this solution to out-patient care is a declared objective. The plan is to network in the individual, vital data generated at home so that it can be integrated and analysed – to achieve better out-patient management.
One vital requirement is adherence to the necessary data protection regulations. Siemens has a clear competitive advantage in this field because the company holds two certifications for a cloud-based networking solution: ULD for Germany and EuroPriSe, which corresponds with the new European data protection Regulation.
Technical challenges
This is a complex as well as unavoidable step to ensure we actually receive comparable data. Curated data is a must.

Arthur Kaindl
Several hurdles must be overcome during implementation of the solution: Quantitative analytics has not yet been sufficiently implemented in radiology, for instance. However, the prerequisite for clean data analysis is the supply of discrete data based on a structured, quantitative evaluation. Although there appears to be a change in awareness, Kaindl says, because it is recognised that the referring practitioners often do not have time to read pieces of prose, and because inconsistencies are also dangerous.
A further requirement for effective implementation is the clean networking of different IT systems, with one to two dozen of these systems usually found per hospital. Networking can easily and quickly be achieved with standard interfaces. However, without these interfaces the process is more time consuming and sometimes also requires assistance from other IT companies.
Nothing works without curation
When data from the respective IT systems has been aggregated it must be curated. Kaindl: 'This is a complex as well as unavoidable step to ensure we actually receive comparable data. Curated data is a must.' This process is carried out manually during development of the hospital database and takes a certain amount of time. It must be ensured that all information is input correctly into the data structure envisaged. This can often take several months.
The actual analysis of the data can only be carried out afterwards. 'Otherwise there would be a danger of "rubbish in, rubbish out'", which must be avoided at all costs.' Initially, standard analytics is carried out with the help of known algorithms.
After licencing, the data is later specifically evaluated with the help of a new deep learning engine.
Jumping on the train
Siemens Healthineers are looking for a quick route into healthcare management. IBM Watson Health is delivering important components. The newly established partnership is based on a distinct win-win situation. 'The respective strengths and domains ideally complement each other – ultimately also to the advantage of our customers,' Kaindl is convinced.
There is optimism regarding competition in this field. Although Google, for example, is trying to position itself with respective projects and the resulting predictive analytics, there appears to be a lot of distrust amongst consumers – particularly regarding healthcare data.
Profile:
Arthur Kaindl MSc PhD is General Manager of Digital Health Services at Siemens Healthineers. He first worked for Siemens after gaining his Engineering Diploma at Friedrich-Alexander University, Erlangen-Nuremberg (1988-95). In 2001 he received a PhD in Electrical Engineering from Leibniz University, Hanover. Following this, he held various magnetic resonance management roles and then, in 2005, was awarded an MSc in Ceramics Engineering at Alfred University, New York
More on the subject:
More on companies: