Better management of complex arrhythmias
Royal Philips Electronics of the Netherlands and global company Bard Electrophysiology are starting a collaboration to develop new clinical tools for the work of electrophysiologists and lab staff. The ambitious goals are to improve the workflow with simpler and more intuitive approaches and to gain detailed visualization for interventions within the heart's electrical circuitry.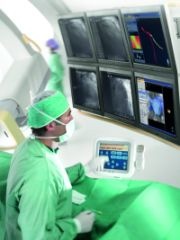 Cardiac arrhythmia can lead to serious health risks, including heart failure or stroke. Atrial fibrillation – a heart rhythm disorder characterized by irregular, rapid beating of the atrial chambers – is found in about 2.2 million Americans and 4.5 million Europeans. With robust EP technologies, clinicians may be better able to evaluate and diagnose abnormalities in the heart's electrical activity.
The goals of the combination of Bard's LabSystemTMPRO EP Recording System and Philips' EP navigator and the Allura Xper FD series is to provide electrophysiologists a faster and easier way to integrate image guidance with mapping and analysis of complex arrhythmias, while offering insights for more accurate interventional navigation. EP physicians and lab staff may also benefit from improved workflow in the EP lab due to integration and compatibility between Philips and Bard technologies.
"Philips is dedicated to simplifying heart rhythm care. The relationship with Bard exemplifies our strategy of collaborating with best-in-class companies to develop solutions that address the needs of the electrophysiologists and their patients," said Gerard Winkels, vice president and general manager, Electrophysiology, for Philips Healthcare. "The collaboration with Bard Electrophysiology will allow us to bring new clinical tools to market aiming to enable our joint customers to perform EP procedures faster and more simply and allow them to provide enhanced care offerings for their patients."
Dave Hemink, vice president and general manager, Bard Electrophysiology said, "This alliance will provide us the opportunity to fundamentally impact the way that we analyze and diagnose complex arrhythmias. We recognize that current solutions are complex and time consuming. Together with Philips, we will innovate towards simpler approaches to these clinical challenges, with a focus on helping healthcare providers' EP labs achieve greater business potential through expanded functionality and improved efficiencies."
More on the subject:
More on companies: