Beckman Coulter Launches the UniCel® DxI 600
Beckman Coulter has launched the next analyzer in its growing family of UniCel® systems, the UniCel DxI 600 Access® Immunoassay System. This instrument is designed for mid-volume laboratories, a segment which represents more than 45 percent of the immunodiagnostic testing market, worldwide.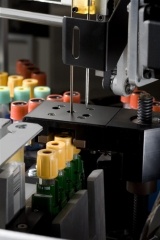 "The UniCel DxI 600 rounds out our portfolio of immunoassay analyzers, which includes the Access 2 for low-volume laboratories and the UniCel DxI 800, our premium system targeted to high-volume labs." said Richard Creager, corporate vice president, immunoassay business center. Beckman Coulter offers one of the most complete ranges of immunoassay solutions in the industry, all using the same reagent format and inventory, and all delivering the same high quality and highly comparable test results.
The UniCel family of systems also includes integrated workstations, such as the DxC 600i Synchron® Access clinical system, which combines chemistry and immunoassay testing into one work cell with a single point of sample entry.
"The DxI™ 600 gives Beckman Coulter another immunoassay analyzer that will be combined with UniCel DxC chemistry systems, creating a broad range of work cells that will meet a variety of customer throughput requirements. Work cells comprise one of the fastest-growing segments of the
in vitro
diagnostics market," added Creager.
For more information click
here
!
More on the subject:
More on companies: