Beckman Coulter Launches the UniCel® DxI 600 at EuroMedLab 2007
Beckman Coulter, Inc. has launched the next analyser in its series of in vitro diagnostic offerings, the UniCel® DxI 600 Access® Immunoassay System, an innovative immunochemistry instrument designed for mid-volume laboratories, a segment which represents more than 45 percent of the immunodiagnostic testing market, worldwide.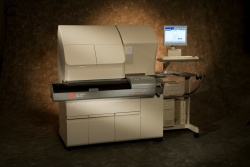 The DxI® 600 is ideal for laboratories processing up to 200 tests per hour and releases the primary tube in less than five minutes. Its features include refrigerated storage for 50-reagent packs and on-board aliquotting. "The DxI 600 makes it possible for laboratories to perform lower-volume assays in-house – immediately reducing outsourcing costs and improving laboratory efficiency," said Richard Creager, corporate vice president, Immunoassay Business Center.
Built from the same proven technology used in the DxI 800, the DxI 600 can facilitate workstation consolidation and expand laboratory testing to include high - quality assays such as AccuTnI® Troponin I. In addition, it uses the same reagent pack as other analysers in the family, a feature important to integrated healthcare networks. "With the introduction of the DxI 600, these networks can streamline testing and optimise labour resources while allowing individual laboratories within the network to find the analyser that best meets their specific throughput requirements," added Creager.
Healthcare networks can standardise inventory and lab testing methods across multiple locations, allowing for increased consistency in results, reduced errors and improved efficiency. The UniCel family of multi-platform systems is designed to be cross-functional, accommodating chemistry, immunoassay or haematology, and other automated components currently in development.
UniCel DxCi systems evolved from Beckman Coulter's market-leading Access and Synchron® technologies, offering a broad test menu, accurate results and exceptional reliability. Each system is designed to help clinical laboratories consolidate workstations, reduce costs and optimise labour resources. The UniCel line also improves productivity by enabling healthcare networks to standardise inventory and lab testing methods across multiple locations, allowing for increased consistency in results, reduced errors and improved patient safety. For more information, visit
http://www.beckmancoulter.com/Default.asp?bhfv=7
More on the subject:
More on companies: