AquilionONE - First Dynamic Volume Computed Tomography System
Toshiba America Medical Systems, Inc. introduced the world's first dynamic volume computed tomography system the AquilionONE. This advanced diagnostic imaging system revolutionizes can help reduce diagnosis time for life threatening diseases like stroke and heart disease from days and hours to mere minutes.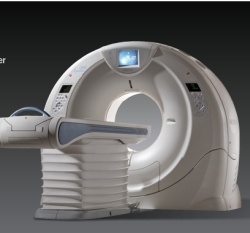 For the first time, physicians can see not only a three-dimensional depiction of an organ, but also the organ's dynamic blood flow and function. Unlike any other CT system, the AquilionONE can scan one organ — including heart, brain and others — in one rotation because it covers up to 16 cm of anatomy using 320 ultra high resolution 0.5mm detector elements. This reduces exam time, as well as radiation and contrast dose. With the AquilionONE, the organ or area is captured in a single rotation at one moment in time, eliminating the need to reconstruct slices from multiple points in time.
With its ability to perform uniquely comprehensive exams, including functional studies, the AquilionONE reduces the need for multiple, duplicative tests and invasive procedures.
"The introduction of dynamic volume CT marks an important milestone in the history of Computed Tomography," said Doug Ryan, senior director, CT Business Unit, Toshiba America Medical Systems. "AquilionONE is the culmination of a decade of dedicated research and establishes a new frontier in CT imaging, offering advanced applications that can significantly enhance patient care while reducing the cost of healthcare worldwide."
Especially patients with neurological symptoms, specifically related to stroke will benefit from the new system: When a patient comes to a hospital's emergency room exhibiting stroke symptoms, it can take hours to diagnose and treat the patient when time is of the essence. Typically, stroke patients will be taken first to the hospital's CT system, but with current CT technology results can be inconclusive and additional tests such as MR exams are necessary, extending diagnosis time to as much as four or more hours. With the AquilionONE, time-to-diagnosis can be dramatically reduced to minutes because complete functional data is acquired accurately and quickly with less radiation and contrast. This improved diagnosis time could greatly impact patient quality of life.
For patients exhibiting symptoms of heart conditions, diagnosis time can be reduced from days to minutes. Typically, patients who come to the emergency room with chest pain are given multiple tests to identify the problem, including an EKG, calcium study, CT angiography (CTA), nuclear test and catheterization. Tests of this nature could take days to complete and would expose the patient to significant radiation and contrast dose. With the AquilionONE, a single comprehensive exam can give physicians all of the information they need to diagnose and treat the patient in less than 20 minutes and with significantly less contrast and radiation dose.
More on the subject:
More on companies: