Apply Proven Ideas from Industry to Hospital Management, Recommends Siemens Healthcare Executive.
Cynthia E. Keen
"P to the power of 3" was the formula that Siemens used to make the global corporation profitable and competitive again after a troublesome period in the 1990's. Britta Fünfstück, head of business development/strategy at Siemens Healthcare, told attendees at the Hospital Management Symposium that this formula represents a commitment to People working in a high performance culture, Process, with an emphasis on efficiency and speed, and Products representing trendsetting technologies and clinical applications.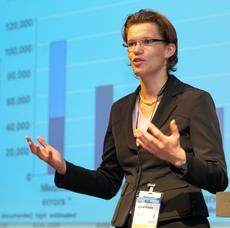 Siemens recognized that its best resource was its people, almost 500,000 of them, and focused on ways to enhance their creativity and talents. Managers take a proactive role in identifying employees who have the potential to assume management positions or enter an experts career track for innovators. An incentive program tying a portion of variable income to achievement of specific goals is used as a motivator. So also is recognition of professional accomplishments, both within and outside the company. Internally, employees who may be sources of inspiration are publicized in internal newsletters and magazines. Externally, they are encouraged to participate as leaders in professional organizations.
Ms.
F
ünfstück said that Siemens adopted a management culture that encouraged the company to think of entirely new ideas which represented significant improvements. The 1.5T MRI Essenza is an example of not just making an expensive medical device a little less expensive, but rather entirely rethinking the design and development of an MRI that could be manufactured and sold at a price low enough to reach a new customer base. Development of the Dual Source CT came from the idea of finding a way to direct visualization of vessels in a five second time frame, rather than developing a system that would produce 128 slices.
Siemens Healthcare also looked for ways to adopt good ideas from other industries. Its suppliers now rent space on the factory floor, to enable Siemens to purchase products without any delay only when it needs them. This "just in time" manufacturing production saves the company advance purchase and stocking fees, alleviates delays, and eliminates overnight delivery expenses.
The direct analogy to hospital management to encourage and motivate staff to think creatively and devise new processes and programs which extend beyond an incremental improvement. Ms.
F
ünfstück said that while she didn't expect that hospitals could ever convince suppliers to rent space to store hospital supplies, administrators should investigate new processes and procedures that can expedite healthcare delivery.
More on the subject:
More on companies: