Analytica 2008
With 121 high level lectures and 65 published posters, Analytica 2008 - organised by the German Chemical Society (GDCh), the Society for Biochemistry and Molecular Biology (GBM) and the German United Society of Clinical Chemistry and Laboratory Medicine (DGKL) - was again a notable bio-chemistry event.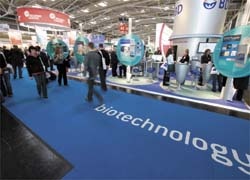 The trend towards automation was keenly discussed, in terms of costs and competitive needs. It was observed that this promotes increasing investments in (semi)-automated systems, and that automation is also called for when development is heading from laboratory analytics towards process analytics. Automated sample handling, for instance, not only guarantees a high capacity of samples but also facilitates fast and reliable online diagnostics for different substances. This in turn results in increased importance of the interaction between technology and the respective software tools.

Nanobiotechnology in tumour diagnostics
More precise, quicker and cheaper laboratory analysis is promised due to a new type of technology — Immune-SERS-Microscopics — developed by researchers at the Institute for Physical Chemistry at Würzburg University, which is currently awaiting patent. In this, gold nanoparticles of a certain shape and size are covered with a layer of organic molecules (Raman markers).
This is protected by a layer of glass coated with different ligates such as antibodies. These respectively bind to specific biomolecules, such as those in blood samples. Through exposure to laser light these give off characteristic signals which can then be detected. The method allows the determination of type and number of many different biomolecules at the same time, which facilitates, for example, more exact tumour analysis and therefore improved, individual therapy – faster and less costly than previously.