Monitoring
Ampronix's new HD Medvix series monitors available
Ampronix, a world class manufacturer of innovative medical imaging technology, reintroduces it's Medvix line of near-patient surgical displays. The high quality HD surgical displays are now available for a lower cost.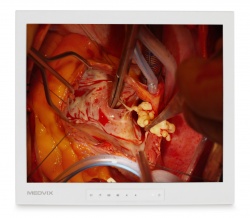 Ampronix took it's years of experience and customer feedback to repurpose Medvix into one of the highest quality and most user friendly surgical displays on the market. The new models are purpose-built to be operating room ready offering HD picture, high quality medical grade materials, and a single bonded protective panel with sealed controls for easy cleaning. Flexible video input/output options also allow Medvix to integrate seamlessly into new and existing systems. Medvix's extensive features, paired with its competitive pricing, make it the ideal display for surgical environments.
Medvix is offered in 19", 24", and 26" displays with a wide view angle thanks to IPS-Pro LCD technology. The LED backlit displays provide superb image quality with resolutions up to 2.3MP, contrast up to 1400:1, and accurate natural color reproduction to reduce eye strain and to provide the quality needed in surgical settings.
Features
•LCD Panel: LED Backlit 19" | 24.1" | 26"
•Resolution: 1.3MP (1280 x 1024) | 2.3MP (1920 x 1200) | 2MP (1920 x 1080)
•View Angle: 178 degrees Horizontal | 178 degrees Vertical
•Contrast: 900:1 | 1000:1 | 1400:1
•Luminance: 330cd/m2 | 450cd/m2 | 450cd/m2
Source: Press Release Ampronix