Air trapping and variations in ventilation
Imaging procedures are rarely used to diagnose and treat asthma – but this may well change in the future.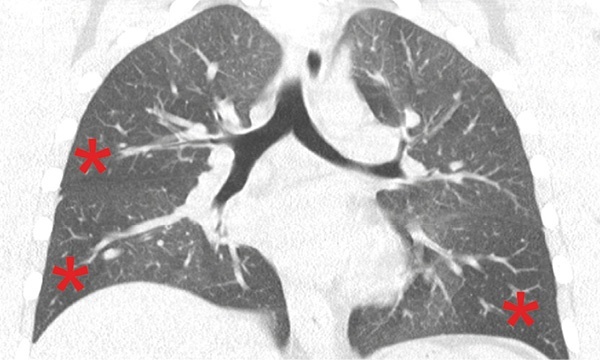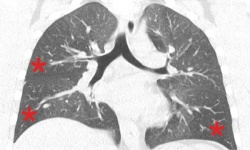 'Asthma is a disease that primarily is clinically diagnosed. Despite this fact, in some cases radiology does come into play,' says Dr Helmut Prosch, at the University Clinic for Radiology and Nuclear Medicine in Vienna's Medical University.
Imaging procedures are mainly used to obtain a differential diagnosis, as the typical symptoms of asthma – shortness of breath, coughing, breathlessness – can also be caused by other diseases with a similar clinical picture, for instance by tumours such as carcinoids in the tracheobronchial system, or by aspirated foreign bodies. Therefore, bronchial asthma patients who do not respond to asthma medication are examined with X-ray or CT to investigate symptoms further.
In patients with known allergic asthma whose condition is clinically deteriorating, a chest X-ray can show whether or not there may be a concomitant disease, which could explain an aggravation of the symptoms, such as pneumonia, pneumothorax or atelectasis. Atelectasis resulting from an obstruction of the bronchial tubes due to retained secretions is particularly easy to diagnose in this way: 'CT is then also important for the clarification of the same issues,' says Prosch. Furthermore, CT is also used to diagnose other concomitant diseases such as allergic bronchopulmonary aspergillosis or eosinophilic lung diseases with similar symptoms.
In fact, 'Asthma and imaging' is a red-hot research topic, as Prosch reports: Currently some international research groups are investigating to what extent MRI, Single Photon Emission Computed Tomography (SPECT) and the hybrid procedure consisting of Positron Emission Tomography and CT (PET/CT) can be utilised to monitor treatment success.
CT can, for example, help to quantify so-called air trapping - a phenomenon that occurs in asthmatic patients, where air cannot be expelled because of narrowing of the small airways. 'Measuring lung function does not always reflect regional differences in the lungs,' Prosch explains. CT can also be used to quantify the widening of bronchial walls in the large airways, which is associated with asthma.
With the help of suitable sequences and contrast gases, which have to be inhaled (hyperpolarised helium, xenon), MRI can quantify ventilation differences in the lungs. 'It allows us to examine how these ventilation differences correlate with regional differences in perfusion,' the Austrian radiologist explains. These differences can be used to check if and where inhaled medication has an effect.

Profile:
Assistant Professor Helmut Prosch heads the Thoracic Radiology Department at the University Clinic for Radiology and Nuclear Medicine, in Vienna's Medical University. Having gained his medical degree in Brixen, South Tyrol, he became a research assistant at the Research Institute for Children with Cancerous Diseases at St. Anna Children's Hospital, Vienna. Following radiology training, in 2010 he was appointed head of department at the University Clinic for Radiology and Nuclear Medicine, where he wrote his habilitation in radiology. Dr Prosch's focus is on the diagnosis and staging of lung cancer, tuberculosis and pulmonary fibrosis.