Article • Point-of-care testing
Advancing lateral flow immunoassays
'Lateral flow immunoassays (LFIs) have evolved rapidly in the past 30 years, from the original crude and simple qualitative tests, to more complex multi-analyte and quantitative assays,' reports BBI Solutions, a firm that has been raising the performance of lateral flow tests with the development of technologies for next generation diagnostics.
Award-winning signal enhancement technology
'Developments in component materials, antibody design, sample matrix handling and test fabrication have hugely expanded the potential of next generation diagnostics,' the firm points out. 'The launch of BBI Solutions Morffi signal enhancement technology significantly boosts signal intensity and increases the limit of detection, up to ten-fold, to achieve a shorter time-to-result. This award-winning technology is helping BBI's customers to create the next generation of high performance lateral flow immunoassays.' BBI Solutions is now poised to enhance its diagnostic capabilities for lateral flow testing with smartphone readers pioneered by Novarum DX, the report continues.
Revolutionising POCT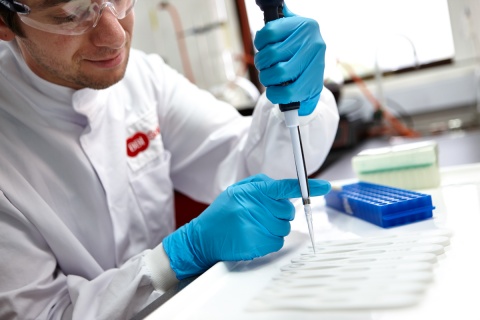 Lateral flow immunoassays are ideal for point-of-care testing (POCT), allowing a simple and visual interpretation of results. However, the firm underlines, poor eyesight, inadequate lighting or human error can result in false positives or negatives and this establishes the need for a more reliable and accurate way to assess test results.
Acquired by BBI Group in 2016, Novarum set out to address this issue by harnessing the power of today's smartphone technology to revolutionise POCT and the interpretation of diagnostic results.
'Novarum works with diagnostic firms and pharmaceutical companies to develop mobile medical apps specific to each POC test, using patented image-capture software to transform a patient's smartphone into an accurate test reader. Results can also be shared with healthcare professionals, safely and securely, enabling early diagnosis and empowering patients to manage conditions from their own home.'
Shaping the future of lateral flow
Combining full traceability and lab-quality results with advanced data sharing is expanding the potential of POC testing, and offers a future of improved, customer‑centred healthcare, supported by the smartphones we carry in our pockets. Developing this technology is the next step in BBI's commitment to helping customers to embrace the evolution of lateral flow immunoassays, and deliver solutions that enhance POC diagnostic testing.
BBI Solutions is at Medica 2017
Hall 3A. Stand 3AB02-1.