Image source: Adobe Stock/elenabsl
Article • Existing solutions need to mature, experts find
Interactive mobile cancer apps: promising, but formative
Interactive mobile apps have become ubiquitous in daily life. The Covid-19 pandemic has escalated the use of disease-specific monitoring apps. Mobile apps enabling cancer patients to self-manage their physical condition and symptoms can help them to evaluate toxic side effects of their treatments, offer artificial intelligence (AI)-generated recommendations to minimize them, and alert them to symptom severity requiring medical intervention.
Report: Cynthia E. Keen
But these apps have not become commonplace just yet. Today, most cancer patients receiving chemotherapy and/or radiotherapy treatments rely on their phones to provide patient-reported outcome (PRO) data, calling a 24-hour cancer treatment centre hotline. When recording details on the patients' electronic health records (EHR), this data can enable symptom tracking and surveillance, increase quality and data management, and improve productivity and efficiency for healthcare providers.
Timely PROs can also help reduce healthcare costs. Clinical studies show that standardized adoption and routine use of PROs can improve early identification of patient symptoms and their severity and can trigger human and/or AI interventions. Cancer Care Ontario, an early pioneer, launched a PRO programme for ambulatory cancer patients in 2007. Patients receiving treatment between 2007 and 2015 who actively participated were 8% less likely to visit emergency departments and 14% less likely to be hospitalized, according to a study published in JCO Oncology Practice.1

UK cancer app analysis and commentary
The ability of mobile apps to integrate with EHRs is essential. Researchers at the Christie NHS Foundation Trust in Manchester, UK, conducted a study to determine how many cancer apps available for use in the United Kingdom that focused on systemic anti-cancer therapy (SACT) collected data for multiple types of cancer from adult patients and transmitted the data to a healthcare provider. The researchers excluded apps from their study if they were for a single type of cancer, diagnostic-specific, associated with a single cancer centre only, required a password-protected log-in with a healthcare provider, and/or unable to input data. Out of 405 apps identified by UK Apple App and Google Play, only 12 met the researchers' eligibility criteria. None interfaced to EHRs; today, several have connectivity to some EHRs.
Lead author Amy Vercell and colleagues evaluated the purpose, functionality, and quality of the 12 apps. All of them enabled patients to input data related to symptoms they were experiencing, but only six analysed this data and provided medical advice based on users' answers. Only five apps allowed patients to input their own symptoms in addition to the average 45 symptoms listed by apps. Ten apps generated reminders. Only five provided general cancer and cancer treatment information. None had been tested in clinical feasibility trials. The top-rated apps were Careology, ChemoWave, Liyfe, and Vinehealth.
Writing in the International Journal of Medical Informatics2, the researchers concluded, 'There does not appear to be a high-quality patient-facing app available for patients with any cancer type which enables electronic PRO measures (ePROMs) to be documented and analysed, with findings integrating into the patient's EHR.'
We need to better understand the lived experience, environment, and behaviours of our patients before and after cancer treatment, so that we can assess and predict "trajectories" of care

Philip Payne
Prof. Philip Payne, PhD, the founding director of the Institute for Informatics at Washington University in St. Louis, US, tells Healthcare in Europe that 'the current state of mobile app development in the cancer domain is quite formative. There remains substantial opportunity to mature and improve such apps and both improve human-computer interaction as well as the quality and completeness of ensuing data.'
He suggests that increased focus on the cancer patient experience beyond the clinic and hospital is required. 'We need to better understand the lived experience, environment, and behaviours of our patients before and after cancer treatment, so that we can assess and predict "trajectories" of care. Mobile apps are ideally positioned to allow for the collection of such data both passively and actively.'
Here to stay? A look ahead
'The goals of integrating digital health tools like mobile health applications and cancer care is five-fold: to improve access, enhance patient and clinician experience, improve outcomes, enhance equitable care, and foster a more efficient care system,' comments Justin Bekelman, MD, director of the Penn Center for Cancer Care Innovation at the Abramson Cancer Center at Penn Medicine in Philadelphia, US. 'Going forward, we need innovation on how these tools are deployed and through what channels. Is text messaging best? Apps? Internet connected speakers? The basic telephone? Which is best, for whom and under what conditions? And on how care teams incorporate the data that ensues into their workflows in order to change the course of care meaningfully for patients? Digital health tools in cancer care are now here to stay.'
Careology: Building a 'seamless digital cancer care pathway'
UK developer Careology launched its eponymous patient-focused app in 2019, after registering with the UK's Medicines and Healthcare products Regulatory Agency (MHRA) as a class I medical device, with all Careology's products UKCA marked. Careology Professional, a "virtual ward" technology, provides a real-time visual dashboard, enabling triage teams to monitor patient vital signs, SACT toxicities, and medication adherence. In 2022, the London-headquartered company announced a collaborative partnership with Guy's Cancer of Guy's and St. Thomas NHS Foundation Trust, to add features and streamlined functionality, such as collecting data through wearable devices.
Careology has announced plans to expand beyond EHR functionality to take care beyond a hospital's four walls. 'Individual hospitals utilize many different EHRs, and traditionally this has presented challenges regarding integration across healthcare systems,' explains Paul Landau, founder and CEO. 'We have built digital cancer care solutions that allow patient record data and information to flow securely and effectively between systems. A seamless digital cancer care pathway is now vital for our healthcare system.'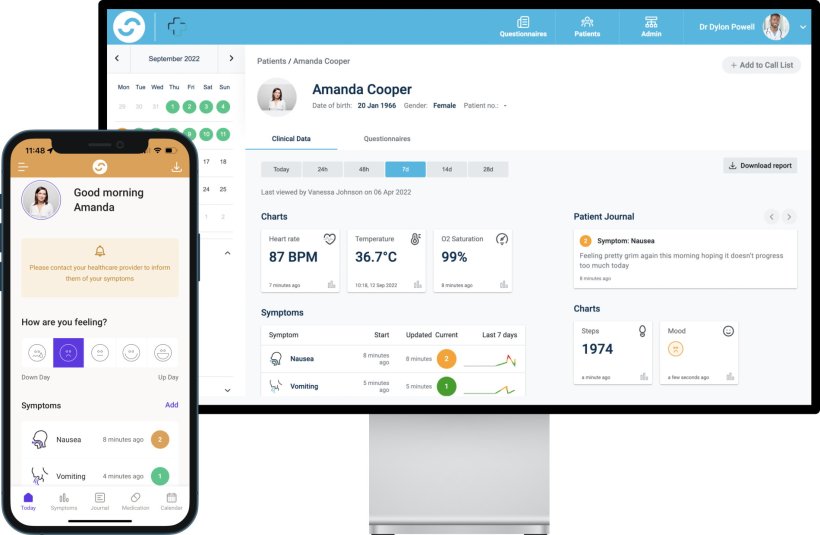 Carevive: An EHR-integrated cancer app
Carevive, an oncology-focused health tech company headquartered in Boston, US, licenses its multi-tiered configurable ePROM cancer app to cancer centres in the US for their patients' use. The app provides automated personalized care plans for patients regarding self-care, cancer centre resources and feedback, and emergency guidance. It offers remote symptom monitoring and management features to proactively address cancer symptoms before they become severe.
The company offers various level of integration of patient-inputted data to cancer centres, depending on the EHR in use. 'EHR integration is dependent on the desired clinical workflow and IT resources. Not all cancer centres define integration as the same,' says Madelyn Trupkin Herzfeld, Carevive founder and Vice Chairman. 'Our deepest integration is with Oracle Health (Cerner), where data are shared bidirectionally, and workflow tools are integrated.'
For sites that have built workflow integrations, the care team can access the Carevive tab in the EHR to view a dashboard of longitudinal week-to-week trends of patient symptoms. PRO data is also populated on the EHR's oncology flow sheets. For symptoms that may require a clinical intervention, a message is sent to the EHR message center. Interventions are auto documented in the EHR.
References:
Barbera et al.: Impact of Standardized Edmonton Symptom Assessment System Use on Emergency Department Visits and Hospitalization: Results of a Population-Based Retrospective Matched Cohort Analysis; JCO Oncology Practice 2020