Acuson SC2000 powered by a long-life workstation
The new Dell Precision T5500 Long-Life workstation has been adopted by Siemens Healthcare Sector to power its Acuson SC2000 volume imaging ultrasound system. The selected workstation is part of a larger programme by Dell's OEM division designed to provide longer manufacturing lifecycles, service and dependable system stability to address specific needs of the embedded and OEM markets.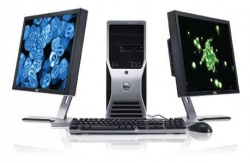 Available worldwide from Dell OEM Solutions, the workstation and newly launched Dell OptiPlex XE, are the firm's first offerings of several future long-lifecycle OEM-class platforms.
Siemens can now purchase the same platform for three years from its initial launch date with lower risk and costs associated with recertifying, revalidating or updating the service strategy with component transitions, software updates and BIOS changes.
Dell points out the benefits:
• The OEM Long-Life programme offers extended product lifecycles and dependable system stability on established Dell products. Dell OEM handpicks specific component options to help ensure a committed long-life span so OEMs can plan engineering resources accordingly.
• Long-life products selected from this programme will continue to offer configuration flexibility and allow customers to take advantage of Dell's state-of-the-art build-to-order process.
• Specifically, the Dell Precision T5500 Long-Life workstation has two processor options from the Intel embedded roadmap, a list of stable components, specific supplier agreements on key components negotiated to support longer life product, and increased hub stocking levels to avoid supply disruption on single source parts.
• OEM customers have the choice of a dual-socket or quad-core workstation performance for space-constrained environments in a mini-tower form factor.
• The Dell Precision T5500 Long-Lifecycle workstation was collaboratively developed with customers like Siemens, which needed a durable, quality solution.

More on the subject:
More on companies: