Point-of-Care II
Acuson P500 - for almost any clinical environment
At ECR 2015 Siemens Healthcare introduces its new hand-carried Acuson P500 ultrasound system, Frosk edition.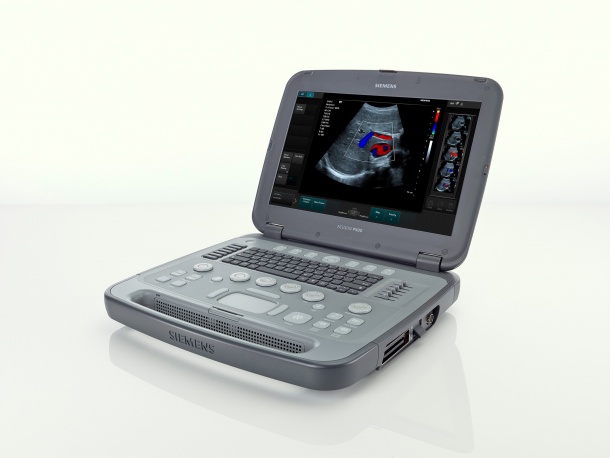 The device introduces two new premium technologies that continuously provide sharp ultrasound images, regardless of patient and probe motion: Dynamic Persistence and Auto Flash Artifact Suppression. Both technologies were specially designed for the new system and work together to detect movements that affect image quality, and automatically reduce noise while simultaneously enhancing color sensitivity for clear images.
Additionally, the system features a highly sensitive touch screen display with latest infrared (IR) technology for accurate gesturing, even with latex gloves or gel. A dual interface control panel offers flexible use of the touch screen or a traditional control panel based on each user's own scanning preferences, allowing them to spend less time on the system and more time on the patient.
All this comes in a compact notebook format of 15-inches. Weighting 7.2 kilograms and equipped with a battery option, the new platform can be easily carried and positioned in almost any clinical environment. It is particular suitable for general imaging and emergency medicine but also fulfills the requirements of use in the military context.
More on the subject:
More on companies: