Article • Xenon MRT
A revolution in lung function diagnostics
Since lung diseases tend to be complex, imaging is a crucial diagnostic tool. While computed tomography has become the standard modality, which is frequently used outside hospital settings, specialised MRI diagnostics remains the preserve of large university medical centres.
Report: Marcel Rasch
Agilo Kern, Jens Vogel-Claussen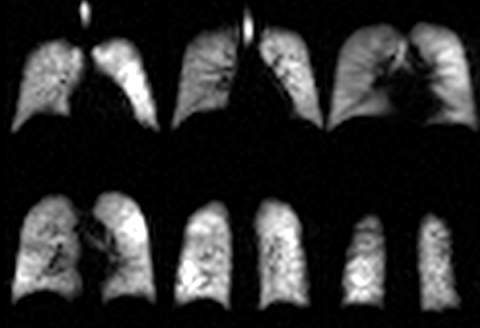 Until recently, lung MRI was considered a difficult procedure. Now, new methods enable lung function measuring, particularly gas exchange, in the MR scanner. With his team, Professor Frank Wacker, Director of the Institute of Diagnostic and Interventional Radiology at the Medical School Hanover, focuses on this research.
Usually, a general practitioner diagnoses pulmonary hypertension, rather than a hospital-based specialist. The patient is referred to a pneumologist who charts the further course of action, which might include a surgical intervention or balloon pulmonary angioplasty (BAP). Imaging is a pillar of the diagnostic work-up, but CT has turned out to be inadequate to detect so-called web stenosis in the pulmonary vessels. This is where MRI comes in, which today offers local lung function assessment supplementing CT.
A milestone in pulmonary research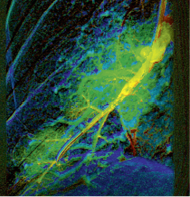 'We are still charting unknown territory,' Wacker concedes, 'but the research results are promising.' He and his team, headed by Professor Jens Vogel-Claussen at the Institute of Diagnostic and Interventional Radiology, are exploring potential uses of MRI in lung function diagnostics. 'MRI diagnostics now offers a method to not only assess tissue change and morphology but also the function of different lung sections and to quantify blood flow,' Wacker explains. 'Beyond knowing how much blood is passing through which lung section we need to assess ventilation and gas exchange.'
The fact that gas exchange can be measured in MRI is nothing short of a revolution in lung function diagnostics. 'We use hyperpolarised xenon to visualise the gas exchange,' he explains. In a first step the xenon has to be processed in a polariser for the MRI scanner to achieve high SNR. The Hanover Medical School works closely with the Fraunhofer Institute ITEM in Hanover to show the path of the gas and the speed of diffusion from the alvioli into the blood circulation.
'Basically we use two gases: fluorine shows the distribution of tidal air. However, this gas does not penetrate the alveoli – which can be an advantage as well as a drawback,' Wacker points out.
The gas stays in the lungs rather than being absorbed by the body, which allows precise steady state assessment. 'In MRI, fluorine can be selectively stimulated. But, to examine the passage across a membrane we need xenon since, unlike fluorine, it does not remain in the alveoli but enters the blood stream through the membrane and can be measured in the MRI scanner,' Wacker says of this milestone in pulmonary research.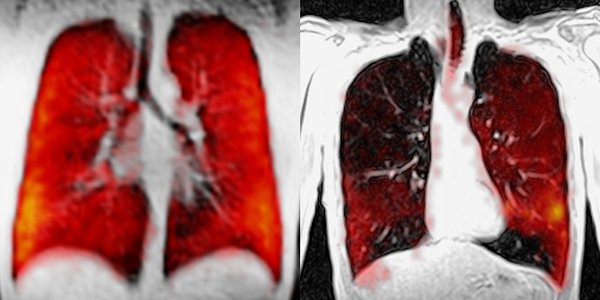 Agilo Kern, Jens Vogel-Claussen
Benchmarking
Nevertheless, much research remains to be done in order to define 'normal' values. 'Obviously, we are progressing systematically,' he emphasises. 'We look at study participants, COPD patients and others and, based on known pathologies, we try to establish what a "typical" MR image is supposed to look like.'
Hanover offers an excellent environment for intensive and meticulous research. 'We are lucky to have on board Professor Tobias Welte, an internationally renowned pneumologist, and Professor Marius Hoeper, a specialist on lung hypertension. Moreover, we have access to the largest lung transplantation programme, which was established by Professor Axel Haverich. Moreover, the teams in pneumology, HTTG surgery and radiology are doing world-class research,' he adds.
Not to forget the team at the previously mentioned ITEM, which also focuses on pulmonary research. All lung specialists in Hanover are part of the research network 'Biomedical Research in Endstage and Obstructive Lung Disease, Hanover (BREATH)', one of the five sites of the German Centre for Lung Research (DZL). Wacker calls it 'an ideal set-up which offers perfect synergies'.
Japanese researchers are pioneering treatment approaches, particularly for chronic thromboembolic pulmonary hypertension (CTEPH), triggered inter alia by the fact that Japanese physicians, for cultural reasons, tend to avoid open thoracic surgery and prefer balloon pulmonary angioplasty. 'This method is an option for many patients who are considered non-operable,' Wacler pomts out. 'Initial results at the Hanover Medical School are rather promising.'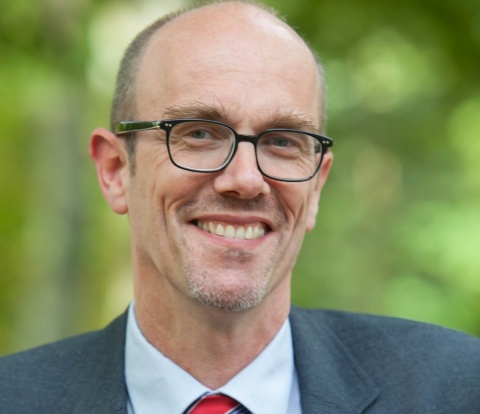 While stenoses are usually calcifications in the large arteries of the pelvis or the thigh, CTEPH is characterised by web-like membranes in the pulmonary arteries. Both, the working group headed by Professor Meyer in radiology, and the one headed by Professor Hoeper in pneumology, underline the importance of visualising the stenosis prior to the intervention. The imaging data are then used to guide balloon pulmonary angioplasty and increase safety of the procedure. Wacker: 'During balloon pulmonary angioplasty the webs are blown up, so to speak, to improve blood flow. We are currently analysing the success of this therapy approach.

Profile:
After graduating in medicine in Tübingen, Germany, Professor Frank Wacker trained in radiology and neuro-radiology at Charité, Berlin, where he was senior physician and subsequently appointed Deputy Clinic Director of Charité, Campus Benjamin Franklin. He held several visiting professorships in the USA, enabling him to pursue clinical and research projects, at the University Hospital of Case Western Reserve University in Cleveland and John Hopkins Hospital in Baltimore. A university professor for many years, in 2010 Wacker was appointed Director of the Institute of Diagnostic and Interventional Radiology at Hanover Medical School. He holds a Level 2 and a training certification for interventional-radiological procedures from the German Society for Interventional Radiology (DeGIR).