Article • Video consultation on the rise
"A patient's home has to become a mobile diagnostic centre"
There are many reasons why for some patients a visit to the doctor's office is difficult or well-nigh impossible – limited mobility after surgery, old age, or a handicap. For others, particularly in rural areas, the doctor is often far away and/or difficult to reach due to poor public transport. In times of corona, another important issue emerged: infection protection. In such cases, video consultation can become a vital safety net.
Report: Sonja Buske
The Centre for Telematics and Telemedicine (Zentrum für Telematik und Telemedizin – ZTG), co-funded by the German state of North Rhine-Westphalia, helps physicians and healthcare institutions with video consultations, from general information to selecting a suitable, certified system and to help with technical and organisational issues. 'The future belongs to video consultation,' confirms ZTG managing director Rainer Beckers.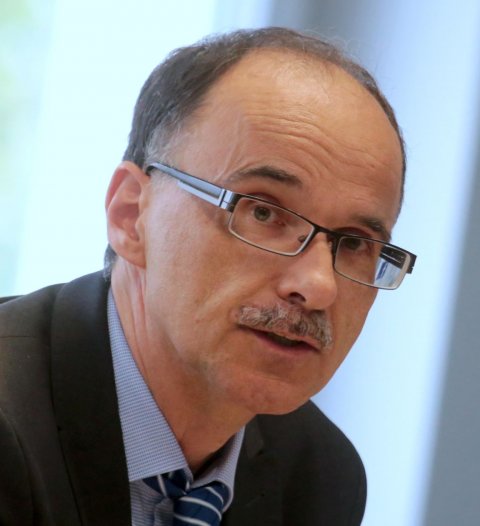 'Before corona, online consultations were hardly ever used, even though they've been a billable service for years. Since COVID-19, that has changed significantly.' Daily, ZTG is receiving inquiries from all over Germany – and ZTG team members are happy to help. As of 20 May 2020, the National Association of Statutory Health Insurance Physicians (Kassenärztliche Bundesvereinigung – KBV) listed 31 certified providers of video consultation software systems. Clickdoc, a solution developed by CompuGroup Medical SE (CGM), reports 80,000 users worldwide and more than 33,000 in Germany. According to Dr Ralph Körfgen, member of the CGM board and responsible for health information systems, CGM is one of the leading providers of online healthcare consultation systems in Germany. Since March, the company provided its system free of charge during the corona pandemic to office-based physicians, hospitals, midwives and social service institutions.
In 2016/17, an international standard for combined video and audio broadcasts via browser was adopted, i.e. audio and video conferences can now be held without additional software. Before this standard was implemented, patients were allowed to call the doctor but not send personal data by mail, or make a video call. 'State-of-the-art encryption technologies comply with very high security standards, which ensure privacy protection,' Beckers points out.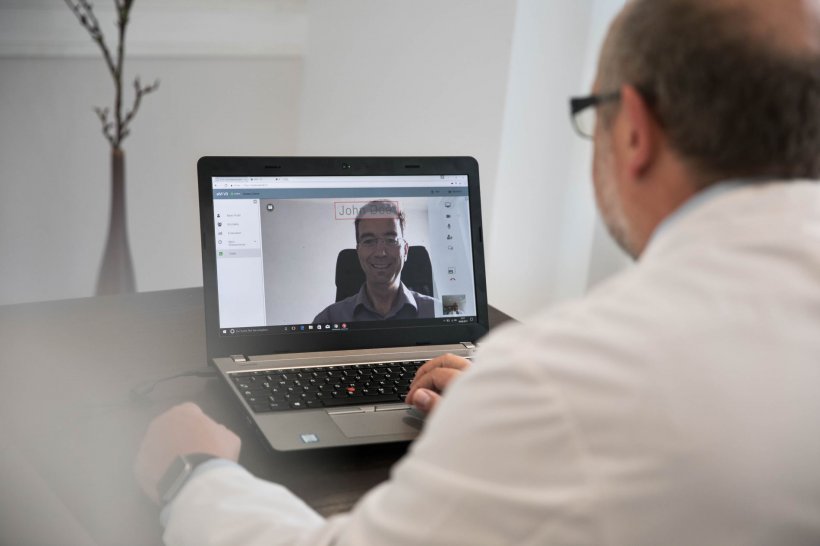 The procedure is very simple: doctor and patient agree a date and time for an online consultation. The patient receives a code to initiate the video call via desktop, tablet or even smartphone. A dedicated software package is not necessary. The patient is directed to a virtual waiting room and 'called in' by the doctor. Abusing the system is virtually impossible, since the participants see each other and in most cases know each other. Patients who visit the doctor for the first time must identify themselves with an electronic health card.
The future belongs to video consultation combined with tele-monitoring

Rainer Beckers
Obviously, a video consultation has its limits. When a physical exam is needed, e.g. to differentiate bronchitis from pneumonia, the patient has no choice but to visit the doctor's office. While online consultation is possible, online auscultation is still pie in the sky. 'It is the doctor's responsibility to make this decision,' Beckers explains. 'For many other diseases and problems, such as evaluation of wounds or eczema, or follow-up exams after surgery, video consultation is perfectly well-suited. Transferring documents or X-ray images is no problem either.'
Indeed, auscultation per video call, Beckers says, is not as utopian as it might sound: 'The home environment has to become a mobile diagnostic centre. That means that the video consultation has to be complemented by tele-monitoring.' Smart blood pressure measuring devices or mobile ultrasound systems will enable the physician to collect the patient's vital data. 'It's a matter of the type of equipment the patient has at home,' says Beckers and adds confidently that 'the future belongs to video consultation combined with tele-monitoring.'
Profile:
Health scientist and philosopher Rainer Beckers currently focuses on health economics and computer simulation as a scientific method. He has worked within healthcare since 1989, in research, hospital management and in professional healthcare associations. Early on, Beckers was involved in designing the electronic patient record. In 2000, he joined the then newly founded ZTG Zentrum für Telematik und Telemedizin GmbH, and has been its managing director since April 2009. Beckers has also been a long-time member of the board of the Deutsche Gesellschaft für Telemedizin (DGTelemed e. V. / German Society for Telemedicine).