A morphological study of gastric polyps performed on a population from Western Romania
By Ovidiu Cristian Fratila, Adrian Maghiar, Marcel Stoita, Tiberia Ilias, Dana Puscasiu, of the Clinical County Hospital, University of Oradea, Romania
Gastric polyps (GP) are typically found incidentally, when upper gastrointestinal (GI) endoscopy is performed for an unrelated indication. Gastric polyps are uncommon and have an incidence of less than one percent. Only rarely do they cause symptoms or other clinical signs.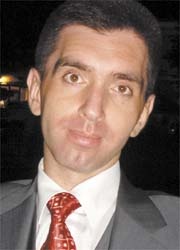 Nevertheless, their discovery can be important, because many polyps have malignant potential.
According to recent data, any gastric epithelial polypoid lesion (even <20 mm) should be biopsied or removed, whenever this is considered feasible and safe.
Study aims and methods
We analysed the prevalence, distribution and histological aspects of the removed GP from patients undergoing upper GI endoscopy.
We studied the endoscopic and histological features of gastric polyps (location, multiplicity, presence of dysplasia/adenocarcinoma) resected in Oradea Clinical County Hospital during one year. In this time 929 upper endoscopic examinations were made using an Olympus Exera CLE145 video endoscope. Every patient had only one examination. Resection was performed applying a Storz 860021 source with cut and coagulation power of 80 and 40 watts, respectively. The following clinical, endoscopic, and histologic features (H&E, modified Romanowsky stain) were evaluated in each patient: age, gender, location of polyp(s), size and type, symptoms, morphological alterations and the presence of gastritis in the surrounding mucosa.
Results and discussions
GPs were found in 16 patients (2.54%), 11 men and five women, aged between 43-76 years. 45% were located in the antrum and 55% in the corpus, no polyps being found in the gastric fundus. The epigastric pain, heartburn and anaemia were observed in 18.7% of the patients. In 11 of 16 patients (68.7%), polyp size was less than 10 mm. Most of the GP were sessile (85%). Hyperplastic polyps, the most frequent histological type of GP reported in literature, accounted for seven cases in our study, followed by inflammatory fibroid polyps (6 cases) and adenomatous polyps in three cases.
The clinical findings depended on the polyp size and location. Some patients had no specific digestive symptoms. Erosion or ulceration of the polyp may cause occult bleeding, anaemia. Upper gastrointestinal bleeding may occur in large lesions. Larger polyps with the potential to pass from the antrum to the pylorus can cause intermittent obstruction. Symptoms such as pain, nausea, vomiting were frequent and could not be attributed solely to the polyp, since there were frequently other endoscopic alterations, implying other gastroenterological diseases.
In our study, hyperplastic polyps were more frequent in the antrum, followed by the body, none in the fundus. The risk of developing carcinoma in hyperplastic polyps is low and they are not considered pre-cancerous lesions. Previous reports showed that the risk of focal adenocarcinoma is less than one percent and occasionally greater than one percent.
Histopathological analysis of fundic gastric polyps revealed no alterations, and there was no association between them and stomach adenocarcinoma. Besides, the association between fundic gastric polyps and patients taking longstanding proton-pump inhibitors were not recorded.
There is a strong association between different forms of gastritis and the development of GP, which emphasise the importance of biopsy of nonpolypoidal gastric mucosa during endoscopy. Larger studies are needed.
Conclusions
1. In our population, the prevalence of GP is low (2.54%). 2. Generally, GP are asymptomatic and used to be found during gastroscopy as a lesion lower than 10 millimetres. 3. Most are diagnosed histologically as benign 4. We never observed hyperplastic and adenomatous lesions simultaneously. 5. Larger studies are needed to reveal the association between different forms of gastritis and the development of GP.