Best Places to Work
A laboratory fit for a future decade
Fostering a collaborative way of working won the UK's Dartford and Gravesham NHS Trust recognition as an elite public sector healthcare employer, recently judged one of the top 100 'Best Places to Work'. The trust, led by chief executive Susan Acott, has created an energy-driven, patient-focused culture within the hospital, reflected by staff at all levels. This has been the driving force behind the creation of its new pathology service, led by pathology service general manager Chris Gunn and team.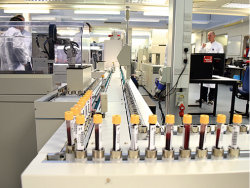 The hospital's long-term vision has been to deliver an improved, cost effective and expanded diagnostic service to the UK's South East for at least the next 10 years. This involves a developing role as a trauma unit, alongside the increasingly diverse and complex demands from GPs, with their multicultural and aging local population. The hospital required a long-term, cost efficient and automated solution, which had to be fully operational from the start. The team chose Beckman Coulter UK as its managed service partner.
The main blood sciences section has been refurbished, and equipped with some of the latest instruments from Beckman Coulter as well as third party suppliers. 'Together we are determined to create a substantially enhanced service in the region,' said Chris Gunn. 'Our 10-year plan is to drive ahead with increased turnaround time (TAT) efficiencies for existing customers, such as A&E and our local GPs, as well as competing for more external work.'
Automation drives expansion
Currently, the lab processes 1.2 million biochemistry and 446,000 haematology tests a year, of which over 550,000 alone are from the Emergency Department (biochemistry and haematology in total). Handling 2,000 tubes daily, the lab expects this to reach 7,000 by the end of the decade. Gunn also predicts GP test demands will account for 50% of the lab's total workloads. The lab currently handles 152,000 GP biochemistry requests annually. Even so, more than 92% of full blood count requests are completed in less than two hours. 'And,' he added, 'we'll be partnering with outside organisations to win further business.'
Within a newly built laboratory interior and an overall workflow design reflecting lean working practices, Beckman Coulter installed its Power Processor, dynamic inlet and automated sample handling track. 'We increasingly see the difference the new system makes to working patterns and overall efficiency,' Gunn noted.
The automated track links chemistry and immunoassay. Two AU5800 chemistry systems provide a total throughput of 6,700 tests per hour. This matches the track throughput and provides extra resilience for the electrolytes. The two Beckman Coulter DxI 800 immunoassay systems are each able to run up to 400 tests an hour. Their speed and ability to load reagents with the system running, without interrupting sample processing, adds to productivity and efficiency. Samples are stored in the 3,060-capacity refrigerated storage unit.
The Beckman Coulter REMISOL Advance data management system consolidates all the analysers and track into one standardised environment for technical validation, providing visibility and traceability of patient samples. Pre-analytic sample sorting is carried out by the company's high-speed AutoMate 2500, handling up to 1,200 samples per hour. From a single point of entry, it manages all tubes, from sample receipt to archiving.
Workcell connectivity
Beckman Coulter enhanced the lab's haematology workflow efficiencies by connecting three UniCel DxH 800 analysers and a DxH Slidemaker Stainer (SMS) into an integrated workcell, the UniCel DxH 2401, with a single entry point for samples and compact, integral sample tracking system. With the latest version of the DxH software, it consolidates information for order entry, results review and quality control management.
Performance, low review rates and first past accuracy in results reporting are all driven by the company's Automated Intelligent Morphology (AIM) technology, a multidimensional, high-definition flow cytometric technology that improves analysis of abnormal specimens.
The UniCel DxH 2401 configuration can analyse up to 300 samples an hour with a slide production rate of up to 140 smears per hour. The DxH workcell's unique bi-directional sample transport system, automatically distributes samples between the analysers, reducing potential delays in the testing and reporting of results. The system also allows for critical STAT samples or body fluids to be added while the system is running, without interrupting routine sample testing. 'With connectivity, workloads are automatically distributed more evenly between the modules,' Gunn explained.
The DxH SMS is easy to configure, requiring little maintenance, the company reports. 'It provides a more reliable and consistent smear quality regardless of the blood consistency, reducing the number of films needing manual review. The workcell's user-defined rules intelligently drive its automatic slide preparation and staining, without the need for manual intervention.'
Effective turnkey solution
The solution had to deliver immediate workflow efficiencies with IT automated solutions, as well as provide the capacity for long-term expansion as the pathology service grew external business.
Darent Valley is already a streamlined and efficient laboratory service, capable of handling thousands of samples every day. The framework has been laid for the development of a laboratory service able to compete successfully within the modern NHS over the next 10 years, Beckman Coulter reports.
More on the subject:
More on companies: