A journey towards full automation
St Jude Medical Center, in Fullerton, California, has always taken pride in its reputation as one of Southern California's most respected and technologically advanced hospitals. With 384 licensed beds and over 700 physicians the centre offers a comprehensive array of services and programmes, including cardiac, stroke care, a breast and cancer centres, full maternity services, orthopaedic services and rehabilitation centres.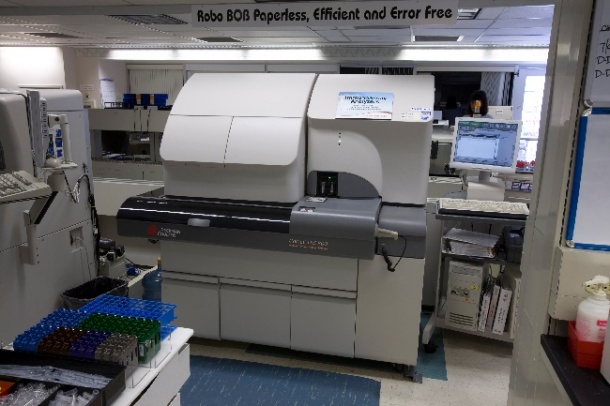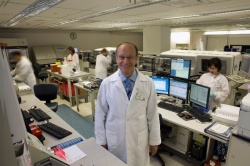 The laboratory's leadership is well aware that to stay at the forefront of quality patient healthcare, continual improvement is necessary, which is why a few years ago it set out to developed an innovative strategy to improve the centre's performance by reducing turnaround times (TAT), establish a paperless environment and produce error-free results.
To accomplish those goals, St Jude Medical Center partnered with Beckman Coulter, Inc. to guide the laboratory through the necessary steps to establish a fully automated laboratory. This collaboration would result in achieving full automation in three phases:
Phase I: Improved pre-analytical processes to reduce errors
• Reduction of unnecessary steps through LEAN Six Sigma
• Introduced automated sample collection with bar-code labelling done in the patient's room.
• Consolidated workstations for chemistry, haematology and immunoassay
Phase II: Going paperless
• Application of laboratory software: Interfacing instruments to host LIS
• Standardisation of workflow
• Verification by exception
Phase III: Automation
• Institution of a full automation line
• Refrigerated storage stockyard
• Beckman Coulter Data Manager and Command Central Software
St. Jude began its journey with the implementation of LEAN Six Sigma step reduction. This effort streamlined sample processing by eliminating unnecessary or no-value added steps – nearly two thirds of the steps used at that time in chemistry and immunoassay processing.
'The LEAN step reduction process set us on a path that would take us to the next level in patient care,' said Ard Roshan, Director of the St Jude Medical Center Laboratory.
The lab then instituted an automated pre-analytical sample collection system that outfits phlebotomists with hand-held devices to scan a patient's wrist band and generates a bar-coded label, which is then placed on the collected sample. During this process the phlebotomist assesses the patient to verify that the information that appears on the device corresponds correctly with the patient profile – e.g. whether the patient's gender and age are correct. The phlebotomist may quiz the patient, if appropriate, to verify the patient's name as well.
Once the sample is collected and presented to the laboratory, the bar-coded tube is read and placed in the queue for analysis. Ard Roshan's laboratory is supported by a full automation line, the Beckman Coulter Power Processor, which includes an automated inlet. The inlet sorts and directs samples around the line for analysis. It also includes a refrigerated storage unit, from which a sample can be automatically recalled for further analysis or repeat analysis as determined necessary by the patient's physician.
Consolidating analytical workstations for chemistry, immunoassay testing and haematology testing provide measurable initial workflow efficiencies and set the stage for fully automated workflow practices.
Once workstation consolidation was complete, Ard Roshan initiated a drive toward a paperless lab. A critical component of this phase was the Beckman Coulter data management system. The Beckman Coulter data manager created the ability to practice autoverification and verification by exception, which freed laboratorians to focus on troubled samples and other aspects of the laboratory.
The third and final phase of the laboratory's innovation strategy involved the implementation of Beckman Coulter's Power Processor with a refrigerated stockyard and the addition of Beckman Coutler's Command Central Software. Samples are process automatically beginning on the Power Processor inlet, which sorts and directs samples around the line for analysis, including centrifugation, chemistry and immunoassay testing. It also includes a refrigerated storage unit for up to 3,000 tubes, from which a sample can be automatically recalled for further analysis or repeat analysis as determined necessary by the patient's physician.
Tangible Results from Full Automation
By investing in automation that addresses all aspects of sample handling, from pre-analytical sorting and sample prep to post-analytical sorting and storing, St Jude went beyond the essential goal of improving turnaround times and producing quality results to find staff efficiencies, increased capacity and clear monetary savings.
The efficiencies found through the automation of this laboratory facilitated the reduction in time spent per billable procedure – chemistry, special chemistry and immunochemistry – from 0.13 minutes to 0.09. This reduction equates to an overall recurring cost savings of $114,000 per month. These savings made it possible for the laboratory to recoup its investment in 18 months (six months earlier than estimated).
In addition, St Jude has achieved a 99.9% error-free rate, a 99.5% physician satisfaction rate, placing it among the top 4% of hospitals in the USA and is in the 90th percentile in employee satisfaction.
More on the subject:
More on companies: