Article • Transducers
3-D transducers prove their mettle in cardiology
One of the first facilities to purchase a complete set of the 3-D TEE transducer, including the equipment, was the Department of Cardiology and Angiology at University Hospital Magdeburg, as Thomas Groscheck, specialist physician for internal medicine at the echocardiography lab explains. Since July 2015 he has worked with the new Siemens transducer – and is enthusiastic.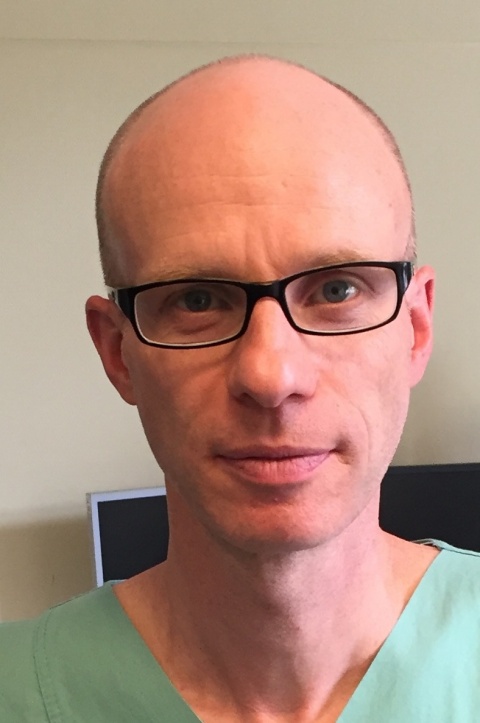 'In our department we treat all types of cardio-vascular disease, from cardiac insufficiency to hypertension, valve repair and aortic valve replacement,' Thomas Groscheck explains. 'We perform all necessary studies prior to an intervention and do the follow-up for all cardiac patients, particularly those who underwent valve surgery or received a valve replacement.' This is where the 3-D TEE transducer comes in very handy.
'What's so special about this 3-D probe is that it is fast and offers high volume', the specialist explains. This allows live images with a high frame rate, particularly in 3-D, which is very interesting during valve interventions. 'I found the hardware and the software in the equipment to be very fast. Thus you get high temporal and spatial resolution with regard to valve visualisation in 3-D. This translates into much better quality than our previous transducers delivered.'
Length of examination
I found the hardware and the software in the equipment to be very fast. Thus you get high temporal and spatial resolution with regard to valve visualisation in 3-D.

Thomas Groschek
In terms of time spent on examinations the new tool also offers benefits. 'The prep examination for a valve intervention takes ten minutes on average,' according to Mr Groscheck. 'Image acquisition and patient handling pre- and post-exam take about twenty minutes. After that time all images are available, including the valve models.' Data acquisition is fast and the analysis can be speeded up when all tools for automatic valve assessment are used. The raw data that are generated and which, theoretically, can be read by any machine, are turned into DICOM images, which in turn can be viewed with any DICOM viewer.'
Handling
Transducer handling has been improved. With its plastic grip it is lighter than metal models. 'This makes the transducer easy to handle,' the physician reports. 'Nevertheless it takes some to get used to the new probe. The head is a bit more angular, not quite as round as we were used to. The location of the function buttons and the two knobs to control transducer head movement could be improved ergonomically. The control elements are no longer centred, which means the probe has to be held in a certain way in order to use it in an optimum way.' However, these are the only handling issues Thomas Groscheck encountered with the new transducers.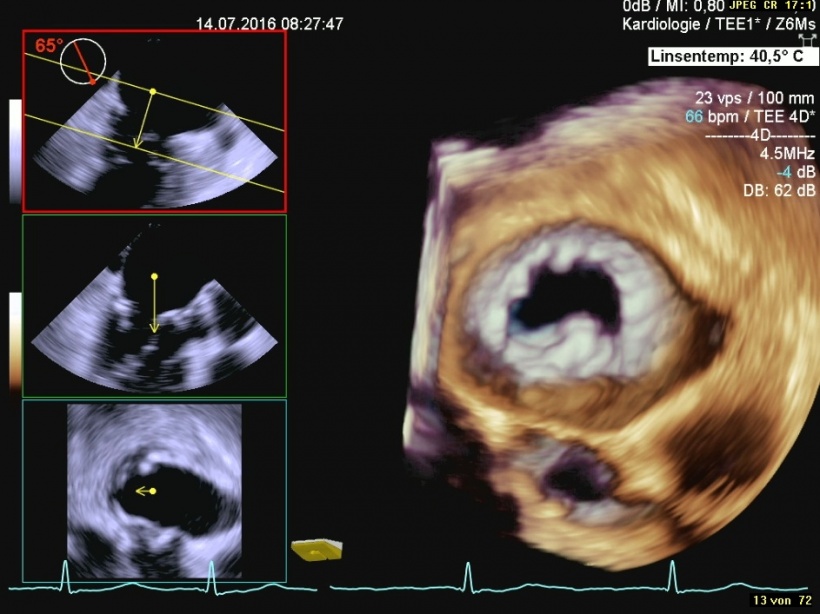 Temperature advantages
There is one feature Groscheck is particularly enthusiastic about: 'With this transducer, temperature issues are a thing of the past. Finally! Although the device does have a cooling mode with reduced transmission performance, I have never been compelled to us it. Despite the fact that in 3-D mode the transducer heats up to about 40 °C, I always could easily complete longer sequences.' Thus interruptions due to overheating – a common problem in longer examinations with high sound intensity, particularly in 3-D – are no longer required. 'In 3-D mode, the 3-D TEE transducer works for minutes without any temperature problems. That makes life much easier for patient and physician alike. Obviously, patient safety has been considerably improved with this device,' Groscheck points out.
Hand in glove
The overall interaction of all elements and components of the new transducer convinced the expert. 'With a bit of training using the transducer is no problem. Transducer, software, and processing programmes for the valve models – they are all well aligned and integrate easily in any daily workflows. Even though the device with all its functions and settings might seem a bit technologically intimidating at first, actually using it is a real pleasure particularly because it works without a hitch and the individual components work hand in glove,' Groscheck sums up.

Profile:
Thomas Groscheck is an internal medicine specialist in the echo­cardiography lab in the Cardiology and Angiology Department, University Hospital Magdeburg. Following his initial training as a nurse he attended medical school at Charité – University Hospital Berlin. He is currently completing his doctorate.
More on the subject:
More on companies: