Landwind
A Chinese company firmly determined to expand its global presence
Shenzhen Landwind Industry Co. Ltd. (Landwind) began operations as a distributor for Siemens and Philips ultrasound products in mainland China and later commenced production of its own black and white ultrasound equipment on an Original Design Manufacture (ODM) basis for HONDA in 2004.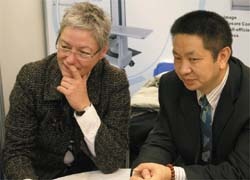 Today, Landwind manufactures ultrasound diagnostic scanners and other medical imaging systems, as well as hospital information management systems.
The company's three ultrasound imaging systems – C Series, F Series and Veterinary – are far more advanced than the firm's initial product. Elegantly designed and with foldaway backlit keyboards, their features include a 10in high-resolution monitor or LCD monitor; dynamic focusing and aperture imaging; multi-frequency, high density probes; a full range of measurement and calculation software packages; display modes B, B/B, B+B, B/M, M; cine review, storage capacity, and much else.
This year, the company presented its ultrasound equipment at MEDICA in Germany and the RSNA in Chicago. Landwind's Vice President, Wang Guozhong, was present at both events. When in Dusseldorf, he met with Daniela Zimmermann (European Hospital) to talk about the firm's products and aims. 'Generally speaking, we just provide good products at affordable prices,' he explained. 'For ultrasound and X-ray technology we have our own R&D capabilities. The products have the same features as others on the market, because all the products almost do the same thing; but, compared with competitors' products, our performance is very good; the image quality and powerful clinical functions are very good and very powerful. And initially we will take the localisation strategy to expand our business in European countries.
Landwind's colour Doppler ultrasound equipment – MIRROR 2 – is designed on all-digital architecture and delivers outstanding performance and smooth workflow to meet different needs of patients and clinicians. It integrates the latest image processing technology, such as Multi-beam Parallel imaging, Superior Aptitude Filter, and Magic Focus, and provides versatile clinical applications, from abdomen, OB/GYN and plays a part in ergonomic design to relieve doctors from fatigue.
'For X-ray, we produce the mobile DR, and CR, and the all-digital DR, and a hanging-bracket for the Dr These are also in the medium price range.' Wang Guozhong said.
Did the firm's presence at MEDICA prove valuable? 'It's the best trade show for medical equipment in the world,' he responded. 'This is the fourth time our company has been here, and we've done very, very well in Hall 10. It's a very good opportunity for us, and we want to enlarge our space next year, to be in the middle of the hall with our competitors.'
Broached with the ticklish question of European and American reservations that Chinese firms may copy their products, Wang Guozhong counteracted that his company has only a 15-year history and that, '…for the R&D experience, and particularly for high-tech equipment, we want to do it ourselves. We learn from our competitors, but we need to have our own technologies, our own development. We learn from Philips or Siemens, but we don't do the me-too products. We pay much more attention to our own R&D centre; just over 10% of our gross margin goes into that. In China we employ almost 700 people and our annual turnover is almost ?100,000,000.'
Landwind, playing a more and more important role in medical equipment provider internationally will be global and definitely expanding.
More on the subject:
More on companies: