Innovative technology for automated lymph node analysis
Definiens will introduce a new image analysis application at RSNA 2008
At this year's RSNA meeting, Definiens, the number one Enterprise Image Intelligence company, will introduce a new image analysis application that will allow radiologists to analyse lymph nodes volumetrically and compare them over time.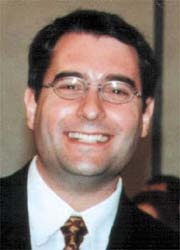 Definiens' technology addresses formerly unmet needs by enabling radiologists to rapidly and accurately identify, analyse and track lymph nodes of interest, facilitating earlier detection of the metastatic spread of cancer.

Peter Herzog MD, who tested another Definiens-developed software for the detection and quantification of lymph nodes on Multi Detector-Row CT Data at the Clinical Radiology Department, Munich University Hospital, said: 'The aim of this technology is to automate documentation and analysis of volumetric changes of the lymph nodes to obtain standardised information that is reader-independent. The volume of small lesions is difficult to determine in digital or – even worse – analogue images. We are talking about sizes where just two millimetres can mean doubling the volume, which has severe diagnostic impact. Based on the specific criteria established by the World Health Organisation, the new technology can now measure changes in lesions even of such a small size.'

CAD products, which assess diameter as well as volume of a lesion by a mouseclick, are already in clinical use for the staging of lung carcinomas. The assessment of lymph nodes, however, is much more complex due to differentiation from the multitude of organs in direct proximity throughout the whole body.

In CT a matrix size of 512 x 512 pixel results in submillimeter resolution which allows precise delineation of lymph nodes and organs. The innovative Definiens' technology uses an algorithm which calculates the size on the basis of these pixels, explains Herzog. 'During a former study where we evaluated the detection performance of the software mentioned above, we collected the parameters necessary to measure the volume as well. The current technology is the convincing result of that research, enabling physicians to measure changes in size automatically for the first time – a milestone in cancer diagnostics.'

Definiens technology can deliver more accurate results than manual image analysis in a fraction of the time. Thousands of images can be analysed with precision, easing the image analysis bottleneck. The technology is able to perform complex 3D volumetric analysis over time (4D analysis). Applications built on this technology will allow clinicians to monitor patient response or disease progression far more accurately than ever before.
By launching its first medical application, Definiens intends to help its customers take the necessary steps toward realising personalised treatment. Developing highly effective treatments requires an understanding of the entire healthcare landscape, from life sciences research and disease pathology to clinical diagnostics and treatment of individual patients. The company aims to provide intelligent image analysis solutions for cell and tissue-based assays and medical imaging, such as X-rays, CT and MRI scans.

Frank-P. Klein, Vice-President of Medical Imaging at Definiens added: 'Our vision is information-driven healthcare that links patient information at the point of care with information gathered from imaging devices and medical knowledge databases. Such an approach enables the most efficient use of all available information in order to find the most effective treatment for the patient. Our innovative technology will be instrumental in realising this vision.'

Unlike most competing technologies that are mainly pixel-based, Definiens Cognition Network Technology® also considers context and examines objects in relationship to each other. The technology emulates human cognitive processes to extract intelligence from images, Klein explained, adding that Definiens LymphExpert™, the company's new application for semi-automated lymph node analysis, builds on this technology. 'It will support radiologists to identify, analyse and visualise lymph nodes over time. The application will allow the automatic measurement of lymph nodes according to RECIST and WHO guidelines in a consistent, fast and reproducible manner – building a 3-D volumetric picture of the node. Radiologists will be able to detect metastasising cancer early, avoid costly and unnecessary treatment and provide better outcomes for patients.'
Following the introduction of Definiens LymphExpert™ at the RSNA in Chicago, the application will become commercially available in Europe early next year.