Wound healing
Modern wound management can shorten treatment and turn in-patient treatment into out-patient care, reducing time and costs. It's all down to today's more sophisticated materials.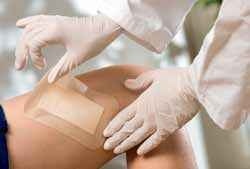 Bayer MaterialScience contributes much to the medical care with its range of polyurethane raw materials plus thermoplastics and films. For example, Bayblend M850XF, a blend of polycarbonate and acrylonitrilebutadiene-styrene, is very well suited for housings for medical equipment such as surgical instruments, diagnostic devices and drug administration systems. Like most of the firm's thermoplastics it offers very good impact strength and rigidity.
The company's current developments include the Baymedix brand hydrophilic prepolymers used to manufacture polyurethane foams for medical wound dressings. The foams absorb aqueous liquids and retain them better than conventional foams. They can be combined with Platilon thermoplastic polyurethane films, which are water vapour permeable and allow wounds to breathe. Watertight films keep outside liquids and dirt from the wound. The films are produced by Epurex Films GmbH & Co. KG – a wholly owned subsidiary of Bayer MaterialScience assigned to Functional Films that also develops non-wovens, foams and adhesives for medical care applications.
More on the subject:
More on companies: