World's first human brain images scanned with a PET/MRI hybrid system
The next-generation of hybrid imaging technology was presented at this years SNM meeting in Washington, D.C: The first human brain images from a prototype PET/MRI system, which is developed by a collaborative team of German and US researchers from the Universities of Tübingen and Tennessee, as well as Siemens Medical Solutions.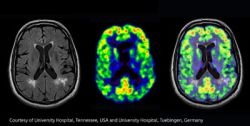 The work-in-progress PET/MRI system is installed at Siemens' factory in Knoxville: A PET scanner, which uses next-generation avalanche photodiode detector (APD) technology, integrated in a standard Siemens 3-tesla Magnetom Trio MRI unit. The combined system is used for cranial scans and has a spatial resolution of 3mm, an axial field-of-view of 19 cm and an transaxial field-of-view of 30 cm.
"After a period of rebuilding and redesigning we strive to completely integrate the PET scanner into the MRI scanner. Our ultimate goal is to develop a whole-body PET/MRI system." said David Townsend, Ph.D., director of the Molecular Imaging and Translational Research Program at the University of Tennessee Graduate School of Medicine.
Bernd Pichler, Ph.D., head of the Laboratory for Preclinical Imaging and Imaging Technology at the University of Tübingen adds "The benefits of the system would be simultaneous measurement with perfect anatomical matching and temporal correlation of PET/MRI data. The combined imaging modalities show excellent soft tissue contrast while neither MRI nor PET images were degraded by the synchronous data acquisition."
Townsend, who was also involved in the development of PET/CT in the late 1990s, sees PET/MRI as the next step and a commercial development. "Now we have the capability of PET/MRI, which is a technological breakthrough. Radiology Departments could buy a molecular imaging ring, a PET insert, and insert it into their MR scanner. We are going to see what sort of demand comes from the medical side."
PET/MR enables physicians and radiologists new ways to investigate neurological studies, the progression of certain forms of cancer or Alzheimer's and Parkinson's diseases. It may also improve the treatment of stroke patients as doctors could locate salvageable brain tissue.
More on the subject:
More on companies: