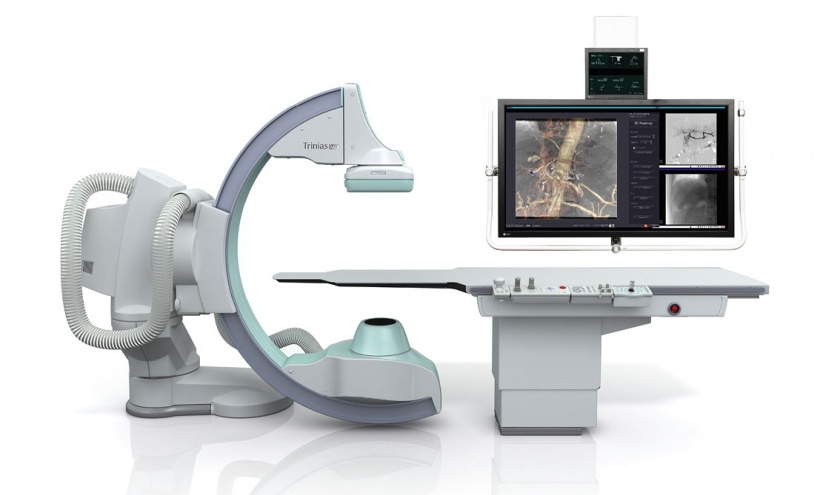 Shimadzu
Sponsored • R/F digital
World-class technologies for healthcare and diagnosis
As a leading global provider of both diagnostic ­imaging and analytical instrumentation techno­logies, Shimadzu offers broad expertise in ­medical imaging and mass spectrometry detection platforms helping to deliver a measurable impact on healthcare and ­diagnosis. The company is the perfect partner for transformational technologies to accelerate diagnosis.
Medical Imaging platforms
Based on more than 100 years of extensive clinical experience in X-ray technologies, Shimadzu provides a multitude of radiographic and fluoroscopic systems, both either floor- or ceiling mounted, and mobile units. World-leading technology, cutting-edge applications and functionalities enhance healthcare providers' examination efficiency and safety while reducing the radiation dose.
Laboratory systems
Shimadzu's analytical instrumentation units support healthcare and diagnosis applications through chromatography, mass spectrometry, spectroscopy, and life sciences. Shimadzu's world-leading quantitative mass spectrometry systems are utilized for various applications, e.g. TDM (Therapeutic Drug Monitoring), NBS (Newborn screening), toxicology, steroid and vitamin analysis. The instruments provide high-speed methods and high sensitivity for multi-component simultaneous analysis even at low concentrations.
Passion for details
New diagnostic imaging systems and units with best-in-class ­features and new functionalities provide excellent image quality for a wide range of efficient examinations. Patients benefit from a high level of comfort and low exposure dose, and clinical staff from operability, better patient coverage and throughput.
Trinias MiX package

Shorter treatment times and less contrast media used
The newly re­leased Trinias MiX package (Minimally invasive eXperience) supports less in­vasive treatments through a variety of applications. The Trinias MiX package is an exten­sion of the Trinias ­angiography system, which facilitates high-level interventions using a proprietary image processing technology.
The functional enhancements of the Trinias MiX package cover the following applications:
SCORE Navi + Plus 3D Application interlinked with previously acquired CT images imports pre-procedural MDCT images and links them with fluoroscopy images, allowing a seamless workflow from preoperative treatment to perioperative navigation.
SCORE StentView + Plus PCI Support Application improves device detec­tion efficiency displaying stents in a fixed position in real-time even in procedures using multiple devices, thereby shortening treatment times.
SCORE MAP provides automatic trace mapping for aortic stent grafting au­tomatically extracts and displays only the outline of vessel walls providing a map image for easy device guidance.
Best-in-class: Sonialvision G4 multifunctional R/F system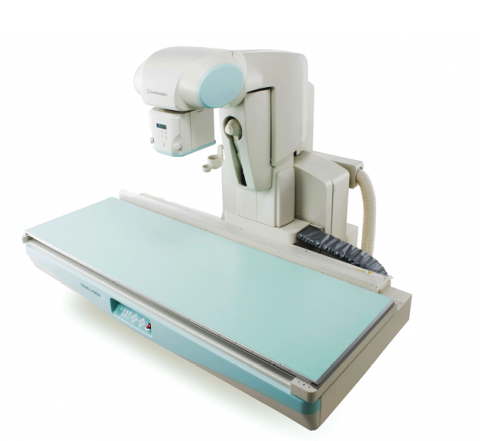 The Sonialvision G4 high performance R/F table provides numerous best-in-class features significantly increasing its functionality and operability. Sonialvision G4 unites the widest possible range of examinations with inter-departmental hospital capability. The largest available FPD at 43 x 43 cm provides an extensive imaging area. An additional ceiling-mounted telescopic arm, a Bucky wall stand, and a second mobile FPD, turn the system into a sophisticated ­multifunctional R/F room.
SUREengine-Advance is a leading-edge digital image processing technology and ensures extremely clear fluoroscopy and radiography images.
Slot Advance provides high accuracy images with long fields of view, such as for full spine or full leg images, taken with a minimal X-ray dose. SLOT Advance acquires a series of accurate images of a few centimetres central slit as the imaging chain moves successively along the patient and allows precise measurements of extremities.
Tomosynthesis is a proven X-ray imaging technology for higher precision diagnoses. In a simple and quick workflow, and at a low exposure dose, tomosynthesis state-of-the-art imaging technology offers high quality multi-slice images to visualize the part which is invisible for conventional plain radiography.
T-smart provides even clearer tomosynthesis images suppressing the artefacts around metal objects even further. This application is of great help in orthopedics especially for patients with metal implants or fixators as it allows a very exact diagnosis of the status of the boundary between bone and implant.
RADspeed Pro EDGE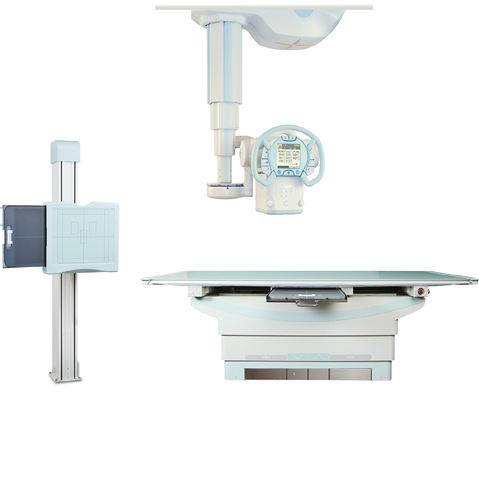 The new RADspeed Pro EDGE digital radiography system adds numerous functionalities to support diagnostics in clinical applications.
Tomosynthesis allows to easily obtain multiple digital cross-section images from a single linear tomography scan.
Dual-energy subtraction utilizes the difference in X-ray absorption levels of bones and soft tissue to generate separate images, which is useful for diagnoses in the chest area, such as lung cancer.
Auto-stitching radiography covers the entire lower extremities or entire spine and links the settings made on the X-ray tube with the Bucky table or Bucky stand with subsequent automatic image stitching.
Dedicated tomosynthesis workstation allows parallel processing of data with examinations increasing the throughput and reducing the stress on patients.
Mobile X-ray applications: evolving technology with outstanding flexibility
The new X-ray MobileDaRt Evolution EFX can be moved to any location where radiography is required, enabling on-site exami­nations and image verification. Capitalizing on the merits of efficiency and high throughput, this digital mobile X-ray system, which is equippable with differently sized wireless flat panel detectors (FPD), broadens its applications from clinical rounds in hospitals to critical care and applications at disaster sites, as well as operating rooms and neonatal intensive care units (NICU). The choice of three detectors (42 x 43, 35 x 43, and 27 x 35 cm) provides superior flexi­bility for users. They combine high sensitivity with the lowest possible dose of radiation and provide sharp high-quality images in areas such as radiology, emergency rooms, traumatology, orthopedics, pediatrics, or on the ward.
New features improve safety as well as processing speed, and save energy:
vibration-resistant DR unit adopting a high-speed solid-state drive (SSD), thereby reducing the risk of data loss
energy saving collimator with a bright irradiation field through LEDs
LCD monitor with a wide viewing angle around the unit
FPD contributing to improved procedural efficiency.
More on the subject:
More on companies: