Welcome to Medica 2011
From 16 - 19 November 2011, the attention of health and medical care professionals from around the world will once again focus on Düsseldorf, as the world's largest medical trade fair, MEDICA 2011, World Forum for Medicine, and COMPAMED 2011, High tech solutions for medical technology, the leading international trade fair for the suppliers market in medical manufacturing, get underway.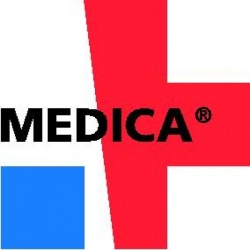 Both of these events report a record number of participants, with 4,571 exhibitors from 62 different countries registered for MEDICA 2011. Meanwhile, COMPAMED, which has taken place in parallel to MEDICA since 1992 (COMPAMED runs from 16 - 18 November 2011) boasts 627 exhibitors from 40 different countries this year. In total, MEDICA and COMPAMED 2011 will once again fill all 19 halls at the Düsseldorf Exhibition Centre.
Three quarters of the MEDICA exhibitors are from abroad and account for 60% of the total floor area reserved. The greatest demand for space at MEDICA 2011 was from German exhibitors (approx. 46,190 m²) followed by Italy (approx. 11,126 m²), China (6,726 m²), the USA (5,950 m²), the United Kingdom (4,890 m²), France (4,457 m²) and the Netherlands (3,172 m²).
"These facts and figures not only reflect the highly international nature of MEDICA, but also that of the market as a whole. It is characterised by a great degree of global exchange of goods and international competition between vendors. More than half of the medical devices, products and instruments produced worldwide are made for export", emphasises Joachim Schäfer, Managing Director of Messe Düsseldorf GmbH, highlighting MEDICA's importance as a central international hub of supply and demand.
The MedTech industry remains buoyant
According to recent information from the trade associations SPECTARIS and ZVEI, German manufacturers of medical technology have seen business remain buoyant, in spite of a slight "cooling off" anticipated for the second half of the year. For the 2011 fiscal year as a whole they expect growth of six percent, with total sales amounting to €21.1 billion. "We are able to compensate for the health sector cuts being made in some countries due to the global economic and financial crisis with growth in sales in other countries and regions, such as Asia and North America, for example", explains Jan Wolter, head of the SPECTARIS trade association Medical Technology, highlighting the manufacturers' very high export ratio (65%). German vendors are striving to boost domestic business by offering innovative service packages to set themselves apart from the competition and thus build long term customer loyalty, he added.
New highlights on the MEDICA 2011 programme
A visit to MEDICA 2011 will be enough to convince any expert on the medical industry of the capacity for innovation in the medical technology industry. The topics presented are clearly structured by product group to cover the full product range, systems and services for the provision of medical care in doctors' surgeries and hospitals, from laboratory technology and diagnostics to physiotherapy equipment and consumables and from electromedicine and medical technology to information and communication technology.
The link between technical applications, instruments and products and their application in the field of diagnosis and therapy of specific diseases at MEDICA is made by the interaction between the trade fair, with its integrated themed areas and forums such as the MEDICA MEDIA FORUM (telemedicine/medical IT in Hall 15), the MEDICA TECH FORUM (state of the art diagnostics presented from a doctor's point of view and innovations in medical technology in practical use in Hall 11), the MEDICA VISION (presentation forum of research institutions organised by the BMBF in Hall 3) and the MEDICA PHYSIO FORUM (presentation of physiotherapy applications in Hall 4).
A new addition to the topical programme at MEDICA this year is the MEDICA WOUND CARE FORUM in Hall 6. This forum, taking place right in the thick of the action, will present information about current trends and new approaches to treating chronic wounds and will be held each day throughout the fair.
The MEDICA programme will also once again feature the regular highlights such as the MEDICA Congress, Germany's largest interdisciplinary training forum, which attracts several thousand participants each year, and the German Hospital Conference, the largest communication platform for German hospital managers. Under the umbrella of the 34th German Hospital Conference, this year will also see the premier of the EUROPEAN HOSPITAL CONFERENCE. This event, for which 150 participants have already registered, is intended for top decision-makers from European hospitals and will feature contributions from the European Hospital and Healthcare Federation (HOPE), the European Association of Hospital Managers (EAHM) and the European Association of Senior Hospital Physicians (AEMH).
Trend topic "Mobility IT" – a wealth of new products
Amongst the many new products being presented by the exhibitors at MEDICA there are also a wealth of software and hardware solutions for what is known as "Mobility IT". More and more medical applications can be accessed as apps using smartphones or tablets, making the doctor's spiral notebook increasingly obsolete, as the devices can be connected to hospital information systems and electronic medical records via a wireless link. There are also an increasing number of apps that can be used by the patients themselves. The innovations presented at MEDICA 2011 will include several new products that can be plugged in to a smartphone or tablet to measure the patient's blood sugar level, their blood pressure or to take their temperature.
Another current trend is for innovations involving process optimisation in the operating theatre, such as systems for centralised touchscreen control, which even allow the integrated image and video documentation to be controlled with ease by the surgeon.
The innovations presented at MEDICA 2011 will also include a respirator that can make the process of ventilation of the lungs visible, thus enabling the doctor to fine-tune the device settings much more precisely to suit each individual patient. This new innovation is also among the nominations for the brand new MEDICA Excellence Award, which will be awarded in a number of different categories for innovative solutions aimed at improving the performance of a hospital or medical care centre. The presentation of the nominations and the award ceremony of the MEDICA Excellence Award will take place during a gala dinner (by invitation only) on 17 November 2011 at the Congress Center Düsseldorf (CCD. South).
COMPAMED in Halls 8a and 8b
COMPAMED 2011 will take place in parallel to MEDICA 2011. At the leading international trade fair for the suppliers' market in medical manufacturing, which will take place from 16 - 18 November 2011, some 627 exhibitors from 40 different countries will present a broad range of new materials, components, intermediate products and services including complete contract manufacturing for the medical technology industry. Two integral technical forums, organised by the professional association for microtechnology, IVAM, (in Hall 8a) and the trade magazine Devicemed (in Hall 8b) will round off the show with a number of lectures, many of which will be in English.
The halls will be open each day from 10:00 a.m. until 6:30 p.m., and until 5:00 p.m. on the Saturday (MEDICA only). Further information available online from: http://www.medica.de and http://www.compamed.de.