Virtual TB bacillus should help finding new drugs
Today little is known about the metabolism of the tuberculosis bacillus and, because of its slow growth, experiments for new drugs take a long time. Now a team of researchers form the University of Surrey built an in silico model of the agent that causes TB - a virtual TB bacillus - that promises to speed up the drug discovery process.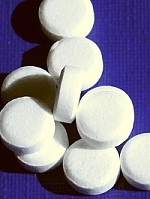 Because of increasing numbers of drug resistant TB cases, new drugs are urgently needed. But so far, the development of new drugs has been very complex and time consuming. A team of researchers from the University of Surrey now have completed the first genome-scale model of the microbe that causes tuberculosis. This could be a highly useful tool to identify new drug targets and design new vaccines.
The model was constructed using information from the entire genome sequence of the pathogen and uses mathematical equations to model the flow of nutrients through the cell. The model is extremely complex, handling 848 different biochemical reactions and 726 genes. So far, the model successfully simulates many of the peculiar properties of the TB bacillus and identifies the drug targets of known anti-tuberculosis drugs. But unlike the biological organisms, the in silico TB bacillus grows in nanoseconds so experiments that would normally take months can be performed in minutes.
It is hoped that the availability of this novel research tool will stimulate new approches to control this deadly pathogen.