Article • Elastography
Using the entire ultrasound arsenal
Although breast elastography entered clinical practice many years ago, a large number of breast radiologists are still unaware of its benefits and have not become familiar with its principles.
Report: Mélisande Rouger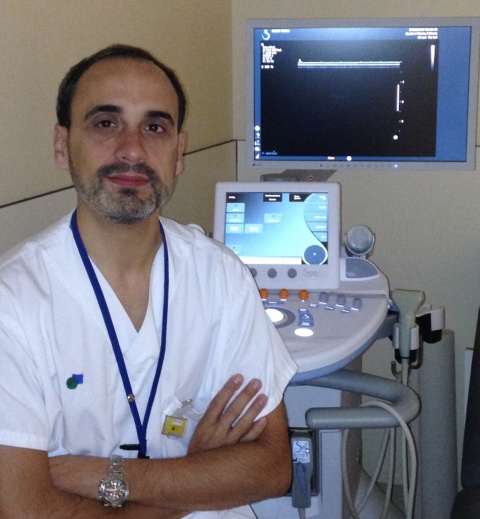 Now, there are dedicated sessions during Breast Congresses that aim to improve knowledge of this technique, by demonstrating the potential in differentiating breast lesion and diagnosing breast tumour, as well as the limitations of elastography.
'When we talk about elastography, we realise there's still a confusion surrounding its key concepts,' said Dr Sergi Ganau Macias, a senior breast radiologist at UDIAT-Parc Tauli Corporation in Sabadell, Barcelona. Elastography was first developed about two decades ago and has been used in breast imaging quite extensively. Simply put, it aims at imaging tissue stiffness, which provides additional and clinically relevant information in a non-invasive, non-irradiating way.
Soft and flexible lesions are considered benign, whereas rigidity or stiffness is often an indicator of malignancy. 'In that sense, elastography is truly a substitute for breast palpation. The elastogram will appear next to the B-mode image and show different degrees of stiffness,' said Ganau, who has used elastography for almost a decade. Mapping stiffness can either be estimated from the analysis of tissue strain under a stress or through shear wave imaging.
Elastography nicely complements B-mode imaging and enables to precise indications for biopsy

Sergi Ganau Macias
With strain elastography, which could also be called compression or static elastography, the radiologist applies the transducer and compresses the breast; the applied pressure distorts the breast and lesion to be observed. When the tissue returns to its normal place and shape, the user can assess the elastic modulus. Results are qualitative and can only be measured semi-quantitatively with different ratios or with a colour scale.
On the contrary, shear wave or transient elastography enables the user to measure and quantify lesion stiffness without compression, by assessing wave propagation. The technique provides many benefits. It adds value to B-mode ultrasound and is particularly useful in apparently negative ultrasound studies with uncertain clinical or mammographic findings. It can also be used in case of doubt to characterise small size hypo-anechoic lesions (solid or cystic) and iso/hypo-echoic lesions (fat lobules and/or solid lesions).
Elastography can bring additional sensitivity and/or specificity to B-mode especially in type 3 or 4a lesions, and may help to monitor neoadjuvant treatment when this is not possible with magnetic resonance, or when MR is not available. Last, but not least, elastography can help to diminish axilar fine needle punction aspiration (PAAF) false negatives.
'Elastography nicely complements B-mode imaging and enables to precise indications for biopsy,' Ganau added. Some studies have shown that elastography limits recourse to biopsy and significantly reduces the number of benign breast biopsy diagnoses (http://www.ncbi.nlm.nih.gov/pmc/articles/PMC3558110/, Breast elastography: A literature review, A Goddi, M Bonardi and S Alessic).
We have to detect cancer as early as possible

Sergi Ganau Macias
However, despite its high specificity and slight correlation with tumoural phenotypes, the technique will never be a substitute for biopsy, Ganau emphasised. Limitations include industry variability, as manufacturers use different nomenclature, colour charts and qualitative vs. quantitative scores. Strain elastography is also less reproducible than shear wave elastography. 'I think a significant downside with elastography is the wide variability between the different models offered by the industry. This versatility complicates the conduct of multicentre trials, which would bring vital and much needed evidence regarding elastography's indications and uses,' Ganau explained.
In addition, cut-off points remain difficult to establish in the case of shear wave elastography. 'Which one is the ideal cut-off point? When we search for sensitivity and use a low cut-off point, we will find more cancers and trigger more negative biopsies; but when we use a high cut-off point, we end up with the opposite problem, i.e. a low cancer detection rate,' he said. False positives may be due to the presence of calcium, fibromatous component or mucinous carcinoma. Ganau recommends using the whole ultrasound arsenal because techniques are complementary. 'It's very important to use Doppler, B-mode imaging, harmonics and elastography – in a word,' he concluded, 'everything we have to detect cancer as early as possible.'
Profile:
A specialist in breast pathology and gynaecology Sergi Ganau Macias is a senior radiologist at UDIAT-Parc Tauli Corporation in Sabadell, Barcelona. With over a decade's experience in the use of elastography he has authored many publications and delivered many talks on this subject. He is also a spokesperson for the Spanish Society of Breast Diagnostic Imaging.