Influential innovations
Unfolding new vistas for MRI, PET and PET/CT
The importance of cardiac imaging is increasing, but nuclear medicine procedures are by no means obsolete, observes Okan Ekinci, during our EH interview with the Siemens Vice President for Healthcare Consulting & Clinical Affairs about the latest innovations for cardiology.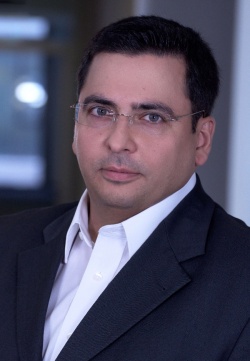 Giving an overview of his company's latest developments for cardiology, Okan Ekinci, Siemens VP for Healthcare Consulting and Clinical Affairs, initially focused on cardiac ultrasound, expressing no doubt about the value of the firm's 3-D TEE transducer for cardiac volume imaging, the Acuson SC2000 Prime with Z6Ms. 'With this we can now acquire high-resolution, real-time 3-D TEE images of cardiac function and morphology without stitching. The transducer is equipped with a volume colour Doppler that enables flow imaging in 3-D and real-time,' he explained. 'Thus it opens the door to new applications, particularly in complex interventions such as TAVI: with the 3-D device the physician can position the valve and detect and exclude leaks more easily; he no longer has to "run the transducer around the valve" as he had to do with the 2-D transducer. 'With this product we particularly address the needs of interventional cardiologists regarding speed and quality.'
Cardiac MRI
'Application-oriented clinical research in cardiac MRI is an exciting topic. Myocardial mapping – MyoMaps – is quantitative myocardial tissue characterisation, which enables detection of the tiniest myocardial pathologies of heart muscle tissue and their visualisation as pixel-based colour images. Thus, diffuse myocardial pathologies, scar tissue and oedema can be detected and quantified very early.
'Iron overload in the heart, which can cause cardiac insufficiency, can also be quantified. We expect these techniques to provide additional, relevant, diagnostic information on myocarditis and to facilitate differential diagnoses of cardiomyopathies and the cardiac involvement in systemic diseases.'
Cardiac trends gaining momentum
'One major topic across disciplines, including cardiology, is therapy. We are driven by the question how to support cardiologists in their efforts to perform therapies more precisely, quicker and more patient-friendly. A few years ago we introduced the syngo Aortic ValveGuide, which enabled cardiologists to create 3D overlays in TAVI to display, during the procedure, the entire aortic valve region permanently on the fluoroscopic image. This saves time and reduces contrast media and radiation exposure. A similar approach is a current trend in other procedures, such as the implant of LAA occluders and mitral clipping.
'Imaging is becoming ever more important, particularly in minimally invasive cardiac procedures. The interventional cardiologist wants to access all images, no matter which modality – MRI, CT or ultrasound – and preferably right in the cath lab, to be able to make personalised therapy decisions. When implanting an LAA occluder the anatomy of the atrial appendage must be determined and the most suitable type and size of the implant have to be selected. Such decisions must be made right on site. These issues explain the most important trend in recent years: the boundaries between imaging and interventions become blurred; diagnostics and therapy begin to merge. We, as a company, continue to ask why a cardiologist needs a certain CT or ultrasound image. Is it for a TAVI? Then a tool is required that allows the cardiologist to correctly measure the aortic valve ring to determine the size of the valve. Thus, we developed syngo.via CT TAVI planning, a tool that not only helps to identify the suitable TAVI access with CT angiography, but also automatically provides the crucial dimensions of the valve and the aortic root.
IQ-SPECT in molecular diagnostics
'It's well known that there are now many alternatives to nuclear medicine, particularly in ischemia diagnostics: ischemia is frequently localized using a stress echo, cardiac stress MRI is gaining ground and perfusion CT yields promising results in studies. Nevertheless myocardial SPECT is a tried and valuable diagnostic procedure that provides sound prognostic data. It's also quick and doesn't need much training. In many developing markets, which want to provide widespread access to ischemia diagnostics, SPECT is the procedure of choice.
'In addition, Siemens IQ-SPECT is advancing the procedure towards less dose or faster acquisition. Today, a SPECT exam takes less than five minutes compared to more than fifteen minutes a few years ago. Alternatively, radiation dose can be reduced by more than 50 percent without compromising quality. IQ-SPECT uses three key innovations: focused collimator, cardio-centric acquisition and an advanced reconstruction method. In short, with these innovations SPECT will continue to be a very interesting procedure.
The future of PET and PET/CT
'One major advance in PET/CT is the quantification of myocardial blood flow (MBF). While it used to be very difficult to diagnose a coronary three-vessel disease, today quantification allows us to detect different grades of ischemia in myocardial areas that appear to be homogeneously weakened.
'It might also be possible to use quantification to diagnose microvascular issues. Quantification provides the foundation for another development in PET/CT, towards a dynamic myocardial perfusion analysis. This is comparable to the dynamic acquisition in cardiac MRI or CT. These innovations open up new possibilities for PET/CT applications in research and in defined patient groups.'
More on the subject:
More on companies: