Ultrasound: New Guidelines
Guidelines increase the use of contrast agents.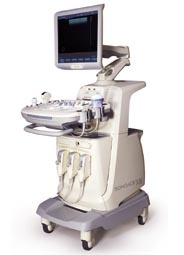 Although published less than two years ago, the Guidelines for the Use of Contrast Agents in Liver Ultrasound, developed by the European Federation of Societies for Ultrasound in Medicine and Biology (EFSUMB), early data indicates that they have played a strong role in increasing the use of contrast enhanced ultrasound (CEUS) for evaluating focal liver lesions by up to 30%.
'Many medical centres were waiting for these Guidelines,' said Dr Riccardo Lencioni, Professor of Radiology at the Department of Oncology, Transplants and Advanced Technologies in Medicine, University of Pisa, Italy. 'In the absence of specific, clear recommendations for use, contrast enhanced ultrasound had some difficulties being accepted within the hospital community.'
The Guidelines were created in recognition of the growing clinical applications of CEUS, which has emerged as an imaging modality in its own right. The goal of the Guidelines is to help standardise the use of ultrasound contrast agents and improve patient management.

The Guidelines cover ultrasound contrast agents currently approved for use in Europe, including Bracco's SonoVue, a second-generation ultrasound imaging agent. SonoVue has been approved for all EU countries; an application for FDA approval has been submitted.

Based on comprehensive literature surveys, encompassing results from prospective clinical trials, the first version of the Guidelines focuses on evaluation of known or suspected focal liver lesions. They cover numerous aspects of CEUS for focal liver lesions, including:

• General considerations: imaging techniques with CEUS, investigator training, and safety issues.
• Characterisation: investigational procedures, image interpretation and evaluation, recommended use and indications.
• Detection: investigational procedures, image interpretation, recommended use and indications.
• Monitoring of local ablative treatment: investigational procedures, image interpretation (definition of complete treatment response), recommended use and indications.

Liver imaging is one of the most important applications for CEUS with SonoVue. It can be used to help diagnose primary and metastatic tumours in the liver and other types of liver disease. CEUS also can accurately evaluate treatment for liver cancer such as RF thermal ablation (a technique that uses heat created by radio frequencies to destroy liver tumours). When the treatment is performed under general anaesthesia, the ability to identify the presence of residual cancer areas can lead to immediate re-treatment, potentially reducing the need for a second anaesthesia and shortening hospitalisation time.

According to Professor Lencioni, about 170–180,000 abdominal CEUS examinations were performed in Europe in 2003 and 2004; virtually all of these were liver scans. After publication of the Guidelines, in 2005 the number of these scans soared to 240,000. Prof. Lencioni helped draft the Guidelines and has been monitoring their impact on clinical practice throughout Europe.

'The development of the Guidelines underscores that CEUS has moved beyond the research stage,' Professor Lencioni said. 'They provided a very important official document that helped shift CEUS from an investigational procedure to an accepted part of clinical practice.'

In June 2005, the European Association for the Study of the Liver hosted a consensus conference in Barcelona, Spain, in partnership with its American and Japanese equivalent societies, to update the current guidelines for the clinical management of liver cancer, which date back to 2000. Aiming to have CEUS incorporated in the clinical management of liver cancer throughout Europe, US, and Japan, the role of CEUS in early diagnosis of liver tumours was discussed. 'From country to country, there are some differences in the practical use of ultrasound contrast agents,' said Prof. Lencioni. 'In the United Kingdom, for example, many scans are performed by radiographers, while in other countries only medical doctors perform ultrasound. Reimbursement is also a national issue.'

Despite some national variations in the approach to the Guidelines, radiologists' support for them reaches across national boundaries to include all of Europe. The groundswell of appreciation for the current Guidelines indicates future expansion should be well received. EFSUMB met in September this year to evaluate the effect of the Guidelines and to discuss the possibility of expanding them to cover applications not included in the initial publication.

Extending the Guidelines to include other applications will depend on the pace at which clinical trials conclude, publication of results, and unified recommendations. Any future applications will require consensus recommendations, technique indications, and clinical flow charts - all of which are included in the current liver CEUS Guidelines.