Trauma care: the alpha and omega in emergency
Recently, ways to improve trauma care, particularly the care of acutely injured victims of traffic accidents, was discussed by international experts gathered at the World Trauma Congress (held in Frankfurt/Main, Germany).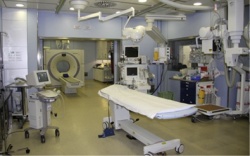 During our EH interview, Professor Luke Leenen, President of the European Society for Trauma and Emergency Surgery (ESTES) and Director of the Trauma Clinic at Medical University Utrecht, provided an insight into innovative approaches and concepts in trauma care.
EH: Is computed tomography the modality of choice in primary trauma assessment?
L PH Leenen: 'Absolutely! However, we have to strike a balance between the quick overall assessment with the help of CT and the primary assessment, because an acutely injured person who might have bleeds has to be treated as quickly as possible. CT might take too much time, particularly if the radiology department is far away. Every individual hospital decides whether a patient undergoes a CT scan, or whether an ultrasound exam will be performed because immediate surgery is required.'
Today, a CT exam takes only a few minutes…
'The problem is not the CT as such but the transportation of the patient. In general, a trauma patient is taken to the emergency department from where he or she is moved to the CT room in the radiology department. This may take half an hour, even an entire hour – time a severely bleeding patient simply does not have. That means the logistics around the patient should be optimised and, ideally, every emergency department would be equipped with CT; but, even in a facility like ours in Utrecht, this set-up was introduced only a few years ago for a CT scan to be obtained right away from every trauma patient with very low blood pressure.
'There is an increasing consensus that CT plays a crucial role in primary trauma assessment. According to the German Trauma Register, recovery of trauma patients was much better among those who underwent a CT scan as a first-line measure recovery process, compared to those who did not have a CT.
Optimum care of severely injured people depends, to a high degree, on organisation and workflows. Where is this particularly visible?
'Today the trend is towards regionalised care of trauma patients to ensure best possible care. Hospitals – along with all players involved when an emergency occurs – are grouped by regions. They jointly decide to which facility an accident victim should be taken and where the quickest care is available. In Germany and the Netherlands, these trauma networks are well established and in Great Britain they are being discussed. It's important to create these networks because not all acutely injured people need the same degree and type of care. Thus, directly at the accident site, a triage system is applied that helps to categorise the patient, who will then be taken to a hospital providing level 1, 2 or 3 care. Very severely injured patients usually require 24/7 multidisciplinary care, which not every facility can provide. An accident victim with a severe head injury should be taken, as quickly as possible, to a hospital with neuro-surgery expertise and someone suffering several injuries should be treated by several physicians. Each type of injury is covered in such an emergency system.'
Does such cooperation work across borders – say, between the Netherlands and Germany?
'Yes. The EU co-funded a partnership effort between the border towns of Maastricht and Aachen. An accident victim in the Netherlands may well be taken to a German hospital because it's closer. The European Society of Trauma & Emergency Surgery (ESTES) has established a committee to promote cross-border cooperation.'
What role do trauma networks play in post-accident surgical care?
'That will depend, to a large extent, on the future training of surgeons. Until recently, Germany had well-trained trauma surgeons who were called upon for all types of trauma and who provided integrated care. No matter whether the trauma concerned the thorax or abdomen, pelvis or limbs – the trauma surgeon performed the operation.
'However, the number of traffic accidents with acutely injured patients has been declining in the past year, creating a problem for trauma surgeons. It may be, for example, that a trauma surgeon has never performed a thorax operation simply because he never had to do it – thus he has neither the experience nor routine. Yet, today a surgeon can no longer be a generalist who performs any kind of operation; so, it's extremely important to establish trauma centres that provide multidisciplinary care.'

Profile:
Prof. Luke PH Leenen studied medicine at Radboud University in Nijmegen in 1982, earning his PhD in 1985 with neuroanatomical basic research involving electron microscope analysis of the pyramidal tract of the rat.