The Vela Diamond
Another introduction at the European Society of Intensive Care Medicine Congress, in Spain, was the Vela Diamond mechanical ventilator platform made by Viasys Healthcare.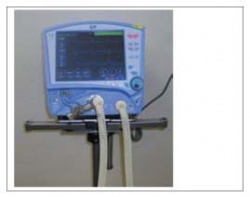 Since 2002, the firm's Vela Ventilator has been sold internationally, and is used for patients who need either invasive or non-invasive ventilatory support in intensive care units, sub-acute departments and emergency wards.

'The Vela Diamond features a new, brilliant display screen, further enhancements to the graphical display with colour coded waveforms denoting spontaneous breathing and colour coded icons to denote control advanced settings,' the Viasys Healthcare reports, adding that the ventilator has increased processing power for greater upgrade capability with integrated communication capabilities. The ventilator also has a new expiratory housing to contain and protect the expiratory flow sensor and exhalation assembly.