E-learning for SERVO-i with NAVA
NAVA is a new mechanical ventilation method in which the ventilator is controlled directly by the patient's neural breath control, and is incorporated in Maquet´s Servo-i system.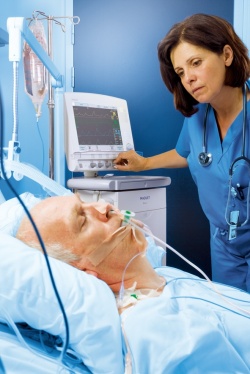 To help clinicians to understand and utilise the advantages of ventilating with NAVA when using Maquet's SERVO-i with NAVA system, the company has launched its first set of interactive e-learning tools. Using these, a clinician will be able to discover and learn at his own pace. 'Recent technical developments have led to new possibilities in mechanical ventilation that have a positive effect on patient outcome. We strongly believe that e-learning is an effective way of communicating these opportunities to the health professionals involved in ventilation,' explained Dan Rydberg, Managing Director of Maquet Critical Care.
The e-learning programme has six separate modules: NAVA Basic, NAVA Setup, NAVA Mode, NAVA Management, NAVA Weaning and NAVA Patient Cases.
FREE - The first module, NAVA Basic, is now available, and free for a limited time period, at www.criticalcarenews.com under Tutorial – NAVA. (While at the website you can also read clinical articles on NAVA and patient case reports).
When NAVA is used with the SERVO-i ventilator, the electrical discharge of the diaphragm is captured by a special catheter, the Edi Catheter that is fitted with an array of electrodes. The electrical activity of the diaphragm (Edi) is captured by the electrodes and relayed to the SERVO-i, which displays and delivers assistance in proportion to the measured Edi. Basically, the signal is used to control the SERVO-i and assist the patient's breathing in proportion to his or her own effort. As the SERVO-i and diaphragm work with the same signal, the coupling between the two is virtually instantaneous, Maquet points out.
Well known for its high level educational forums on ventilation therapy and critical care, Maquet adds that these include the firm's world-class intensive care symposium series, lecture CDs, SERVO Education study guides, tutorials and quick guides, and the peer-to-peer publication Critical Care News.
* Maquet (www.maquet.com) is a subsidiary of the publicly-listed Swedish group of companies Getinge AB (www.getinge.com)