The Imaging Science Institute
The Imaging Science Institute (ISI) — officially opened in December by Professor Werner Bautz, Director of the Institute of Radiology at the University Hospital Erlangen and Professor Erich R Reinhardt, member of the board at Siemens AG and chairman of the divisional board at Siemens Medical Solutions (Erlangen) — is the third institute (after Berlin and Tubingen) in which Siemens is participating with internationally renowned universities, researchers and medics.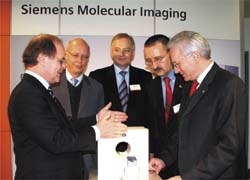 The aim is to extensively test, optimise and further develop medical systems and technology for everyday life in the clinic, Prof Reinhardt explained.
Whilst the Berlin and Tubingen institutes focus on research into individual aspects of the examination process, the ISI specialises in integrating and optimising individual treatment processes to devise ideal universal concepts for workflow, Siemens reports. 'We put the interaction between the most up-to-date medicine and information technology into practice with selected treatment processes. This is unique worldwide,' Prof Bautz explained, adding: 'We hope this partnership will result in new, significant effects on reducing waiting and treatment times, which in turn will reduce costs.'
The initial project at ISI will focus on the analysis and improvement of diagnosis for acute chest pain.
More on the subject:
More on companies: