The Hitachi Aloka ProSound F75
Three radiologists, who focused on different clinical applications using different diagnostic techniques, have reached the same conclusion: the next-generation of ultrasound brings new capabilities for detection, differentiation and advanced diagnosis of disease, John Brosky reports.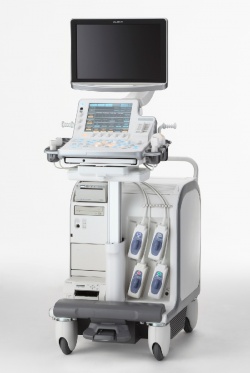 Often, high resolution in the B-mode image, the bedrock for any ultrasound examination, was enough to detect abnormalities for Taco Geertsma MD (Hospital Gelderse Vallei, Ede, the Netherlands). Moving from head to foot in examples of musculoskeletal ultrasound examinations he demonstrated how the ultra-high resolution of the Hitachi Aloka ProSound F75 consistently revealed defects in a detail never before seen.
Visualisation of nerves compressed by tendons for carpal tunnel syndrome is especially impressive with the new resolution levels, as well as subtle tendon abnormalities in the finger, he reported. The advanced visualisation reinforces his role as a radiologist with surgeons. 'If a decision were to be made without this visualisation, typically the surgeon would cut the tendon,' he said. Instead he was able to show the patient's symptoms were caused by a stump neuroma of only one millimetre, thanks to the high resolution of the B- mode.
In another example, Dr Geertsma showed how 'any ultrasound system can show this ganglion cyst'. However, by using Hitachi e-Flow signals to display haemodynamics, combined with the high resolution of the ultrasound platform, the patient's real condition was revealed to be nerve compression leading to a diagnosis of tarsal tunnel syndrome. Frederik Giesel MD, from the University of Heidelberg, demonstrated how the ultra-high resolution of the Hitachi Aloka ultrasound technology is especially relevant for contrast-enhanced studies of patients with neuroendocrine liver metastases undergoing radio-peptide therapy.
The portability of high-end capabilities on this next-generation ultrasound also lends itself to assessment of selective intensive radiotherapy (SIRT), he said. These ultrasound assessments, validated as concordant with CT scans following therapy, create an advantage for early indications of the effectiveness of therapy. 'They are robust and repeatable, and are particularly valuable in both the out-patient setting and at the patient's bedside,' he said.
Professor Thomas Fischer (Charité Hospital, Berlin) presented applications for prostate cancer showing convincingly how the enhanced resolution of the B-mode alone enables radiologists to detect, distinguish and closely examine tumours. His special focus for colleagues in Vienna was a demonstration of the ability to fuse MRI images with real-time ultrasound. Once image volumes from MRI are loaded to the Hitachi HI Vision Preirus ultrasound scanner, images generated in real time from a trans-rectal ultrasound transducer can be viewed using an array of advanced techniques including elastography, broadband Doppler and contrast harmonic imaging. 'We have two high-end modalities available with MRI, and now with ultrasound, that we can bring together to perform targeted biopsies,' Prof. Fischer said.
While prostate cancer was the immediate subject for his demonstration, the relevance of the multimodality fusion and high-resolution ultrasound suggest interdisciplinary applications for nephrology, gynaecology, gastroenterology and surgery, he said. Beyond the new capabilities for ultrasound, Fischer emphasised that 'the fusion of human brains on the medical team is as important as the images on new equipment'.
The next generation of ultrasound provides a great compliment to established modalities to enhance surgical planning, and presents a path forward for radiologists, he said. Dr Giesel agreed, adding that standardisation of protocols and practices will now become crucial. 'The experience of an ultrasound operator remains an issue in ultrasound examinations,' he said. 'By addressing standardisation, we will be able to reach equivalence.' In his concluding comments, the chairman of the symposium, Carlo Faletti from Turin, underlined the challenge the new power of ultrasound represents. 'We are here not only to demonstrate capabilities, but to deliver a message,' he said. 'We need to define the role of the radiologist in ultrasound examinations not only with high-quality scanners, but as high-quality operators.'