Histopathology
The fully automated formalin mixing station
It's the third day of MEDICA 2016 and hundreds of visitors have visited the World Forum for Medicine. Not to miss is the newly launched fully automated formalin mixing station AFDS-100, from German firm Kugel medical, a leading supplier of histo-pathology equipment.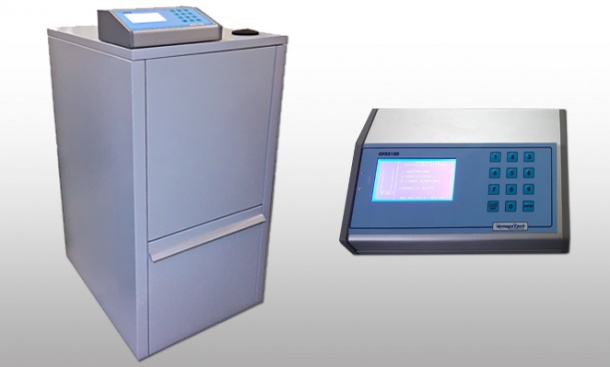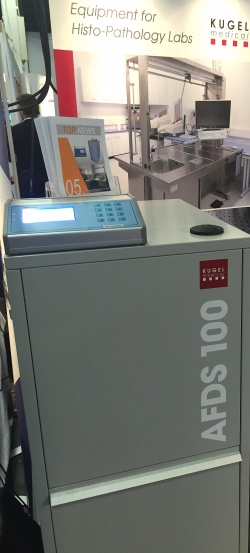 The reclassification of formaldeyhd is frequently discussed within all industries. In this connection, not only maximum concentration values at the workplace for work involving formalin, but also sustainable reduction of formalin concentraion in working environments, play an important role.
The formlian mixing station AFDS-100 is designed for easy and reliable preparation of formalin solutions in laboratories with the aim to reduce formalin concentration in pathologies, since employees do not come into contact with 37% formalin stock solution.
Thanks to its compact design, the mixing station is also suitable for small laboratories. All operations, such as preparing a 3.7% standard formalin solution or a customised solution with variable quantities of formalin, water and a buffer solution, are controlled through one single surface with a LCD display at the device.
After entering the desired mixing ratio according to the menu, the liquids are pumped into the tank. Subsequently these liquids are mixed for 15 minutes. The prepared mixture can be drained directly from a tap at the device, or transferred to a multiple remote station that can be up to 200 metres away.
Additionally, the remaining solution is blended automatically six times a day, for 15 minutres. Electronic and mechanical safety precautions keep liquids from overflowing within the tank to guarantee the utmost safety for laboraty staff. 'On the technical side, exhaust and ventilation technology has never been more important than now, especially energy recovery and filtration of pollutants play a main role, which is why we always design our products from our customers point of view,' explains Robert Karl, Kugel medical's CEO.
The company is at Medica demonstrating that the fully automated formalin mixing station AFDS-100 has a lot more to offer.
For more information visit Kugel medical online or come to Hall 3. Stand E92.
More on the subject:
More on companies: