The Epidot SC
Founded in Poland, in 1993, Echo-Son S.A. manufactures the ultrasound colour Doppler scanners Spinel II, Epidot_SC, Desmin_M, Epidot_V and the portable (b/w) Desmin_F, Desmin_H and Albit, for medical and veterinary applications (2.5-12.0 MHz, Doppler) and ophthalmology: A+B mode scanner 12 MHz and pachymeter 20MHz.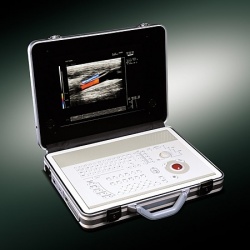 The company's research and development team includes young designers specialised in DSP and FPGA systems, as well as several experienced engineers who designed and manufactured the first Polish ultrasound scanners over a 30-years ago and have continued to build their expertise ever since. Working with scientists from the Polish Academy of Sciences and major medical universities also enables the design and manufacture of the USG equipment at the European level confirmed by the required International Certificates of Quality (incl. CE, ISO-9001 and ISO-13485), Echo-Son points out.
The scope of and range of the ultrasound equipment has brought success in the Polish as well as world medical equipment market. 'Our ultrasound scanners are exported to over 30 countries and are supported by a team of qualified dealers and technicians. Customer care provides a two-year warranty for all products as standard,' Echo-Son adds.
The Epidot SC
Along with other products on show at Medica, Echo-San will present the Epidot SC, which it has designed for smaller hospitals, private clinics, emergency departments, first aid units, intensive care, etc. The firm reports that this ultrasound system's main application focus is on abdominal, obtestrics/gynaecology and vascular imaging. 'Powerful colour and spectral Doppler technology, high quality and high resolution of tissue visualisation provide maximum productivity and diagnostic accuracy,' Echo-Son adds.
Details: www. echoson.com.pl
Echo-Son ultrasound systems are on show at Medica
Hall 09. Stand D25