The digital broadband MR experience
Ingenia 3.0-T, the digital broadband MR system launched by Philips at RSNA 2010, is today used in almost 200 hospitals worldwide. Eight months after the installation of an Ingenia at Germany's Bonn University Hospital, the radiology department's managing physician Dr Winfried A Willinek sums up her experience with this new technology that is increasingly competing with whole body CT and pet-CT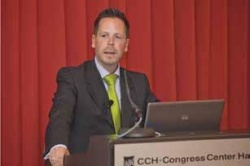 To be fully digital the Ingenia 'reinvented' signal transmission. Rather than converting the signal with an analogue/digital transformer in the technology room or in the magnet, the MR signal is digitised directly in the radiofrequency coil. A newly developed super small chip, which can resist the strong magnetic field, is the Ingenia's ingenious aid. In conventional MR technology the signals that are transmitted in bundled copper cables are in each other's way, which creates image noise.
'In a fully digital system the additional signal is used to exploit the potential of parallel imaging, for example to increase spatial resolution and the field-of-view and to decrease echoes, which in turn reduces artefacts. That's a dream come true for the radiologist. In addition, since the measuring times are shorter than before we can avoid complicated respiratory triggering and instead can examine in short breath holds. The examination time for a whole body MR scan has been reduced to less than ten minutes and the system offers functional PET-like images. Clearly,' Dr Willineck believes, 'the modality now competes with PET-CT and multi-slice CT.'
The digital coil increases the signal-to-noise ratio by 40-50% depending on the type of exam. Previously, the field strength had to be increased.'The new technology reduces noise and at the same time increases flexibility. A new 3-Tesla whole-body magnet offers a field of view of 500 x 500 mm,' she explains. The coils can be accessed and controlled individually because each Ingenia receiver has an independent IP address.
This feature and the fact that the coils are integrated in the gantry facilitate patient positioning since the coils no longer have to be exactly placed. The new 70 cm bore increases patient comfort significantly during an examination – similar to a CT, the patient is placed feet first and hands below the head.
More on the subject:
More on companies: