Strengthening professionalism
From November 26 to December 1, 2006, the Windy City - Chicago, Illinois - was the destination for radiologists from all over the world.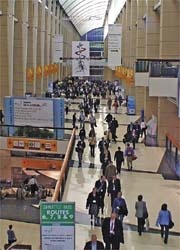 From November 26 to December 1, 2006, the Windy City - Chicago, Illinois - was the destination for radiologists from all over the world. More than 62,000 visitors attended the 92nd Scientific Assembly and Annual Meeting of the Radiological Society of North America, where 738 exhibitors showed their latest technology. Six days of educational programmes attracted radiologists, oncologists, medical physicists and affiliated healthcare professionals to the largest annual worldwide gathering in this medical field.

'Strengthening professionalism' was the motto of this year's congress quoted by president Robert R. Hattery MD. During his opening speech he encouraged his colleagues always to maintain their professionalism, no matter how much pressure they may be under. The wellbeing of the patient should always be at the centre of the treatment process. One ongoing objective for the RSNA is continuously to improve the quality of diagnosis and results. Respect, trust and motivation are only three of the qualities, he stressed, adding that continuous professional training and the standardisation of processes were two basic requirements for medicine.

The industry seems to have taken on the congress motto as well. As last year, everything was more about evolution rather than revolution. Improvements in the application and integration of RIS and PACS systems were the focus for all systems. Target-oriented, standard examination procedures and diagnostic processes are to achieve more safety and quality in diagnoses.

In the field of computed tomography, Toshiba announced a system with a 256-slice detector, although visitors were told that a beta-system is to be installed at the Johns Hopkins University in Maryland in February. The advantages of a 256-slice system for cardiac diagnostics are obvious. The new CT will be able to scan the entire heart within one rotation. Apart from image quality and speed of the examination all manufacturers are also focusing on the integration of this high-capacity examination equipment into hospitals' IT environments. A comprehensive RIS-integration of modalities is the basis for efficient improvements of the workflow.

In the field of MRI, Siemens introduced an MRI-PET modality combination. The compact PET scanner is mounted in the tunnel of the MR gantry. This design facilitates the acquisition of PET and MRI images during the same examination; this is a system for highly sensitive, simultaneous PET and MRI measurements on the brain. The simultaneous measurement of MRI and PET parameters opens up a multitude of new examination procedures with dynamic, time-critical processes.

In the future, radiologists will be able to determine differences with regards to localisation, spatial dimension and chronological sequence of images in both image modalities in the same environment, and will be able to compare the activation in functional MRI directly with the activation of receptor and neurotransmitter systems in the PET.

Conventional imaging is dominated by digital technology. CR (computed radiography) and DR (digital radiography) systems still compete for customers' favour. However, due to falling prices and further developments in the area of flat-panel detectors, DR technology is likely to win this race. Philips introduced a mobile flat-panel detector that transmits images into a PACS via WLAN (wireless local area network).

The hospital-wide, flexible use of DR-technology is likely to replace memory foil technology. With RIS and PACS, interfaces are becoming less of an issue each year. Comprehensive interoperability is now part of the basic environment without nobody can work. Information systems have all become much more user-friendly.

They control the workflow of departments with a complex organisational structure. It is probably only a matter of time until both systems will grow together. One makes no sense without the other.
The chief attraction of a PACS is - and will be - image distribution. Whereas only a few years ago the manufacturers distinguished between work and viewing stations, this year they showed applications that make it possible for hospitals to carry out 3D reconstructions with the help of server technology. Image editing software and the computing processes run on a central, powerful server.

A workstation is required only for visualisation. It is only the quality of the display which limits the areas of application, and the manufacturers of display systems leave nothing to be desired. Everything is possible, and the highlights at the show were colour widescreen diagnostic monitors of at least 24 inches (60cm).

What used to be known as Hall D at the McCormick Place venue was known as the Lakeside Learning Center this year. Delegates found the scientific presentations arranged in a hub-and-spoke format and were able to obtain information from numerous posters as well as a number of computer workstations. The Molecular Imaging Zone was also situated in the Lakeside Learning Center this year. Increasing demand for, and numerous activities in the area of Molecular Imaging moved the conference organisation committee to give this new field of application its own exhibition space this year. They offered visitors an overview over technologies and procedures of the future. The focus was on clinical introduction and new visualisation techniques with the help of image superimposition of nuclear medical and radiological applications as well as bioinformatics.

In its technology pavilion, GE showed us what the world of radiology may look like in only a few years. The company offered radiologists detailed insights into the work of the scientists at the company's four research centres worldwide. Continuously increasing integration of IT and smaller examination equipment will not only ensure that information is available everywhere in multimedia form, but also that examination equipment can be brought to patients with severe injuries, rather than the other way round. One example was an ultrasound scan system that looked like and was roughly the same size as a PDA, with the transducer delivering images via a USB-connection. A display of 5cm x 10cm and a resolution of around 1000 x 600 pixels showed pin-sharp images.
Next year's congress president will be R. Gilbert Jost, MD, Professor of Radiology, chair of
the Department of Radiology at Washington University School of Medicine, director of the Mallinckrodt Institute of Radiology and radiologist-in-chief at Barnes Jewish Hospital in St Louis.
Fascinating technology and information about the latest applications and procedures are again likely to attract more than 62,000 visitors to McCormick Place in Chicago between November 26 and 30, 2007. But why, with all this technology around, does it take more than half an hour to get a cup of coffee? Strengthening professionalism – an objective the congress organisers should also note!