Sponsored • Laboratory workflow
Sophisticated tech transforms Spanish lab
Touring the laboratory at the Clínic de Barcelona Hospital, Dr José Luis Bedini revealed how the latest Siemens Healthineers technology has transformed workflow to deliver quicker results, improve efficiency, conserve energy, and thus make the team of technicians very happy!
Report: Daniela Zimmermann
In recent months the Core Lab Operative Area at Hospital Clínic de Barcelona has undergone a transformation due to the introduction of a new Atellica Solution from Siemens Healthineers. Dr José Luis Bedini, the laboratory head, explained the Atellica Solution from "conception to reality" during a tour of his lab, outlining how the automated environment is slicker, delivers around-the-clock results to clinicians, and provides a more patient-friendly experience.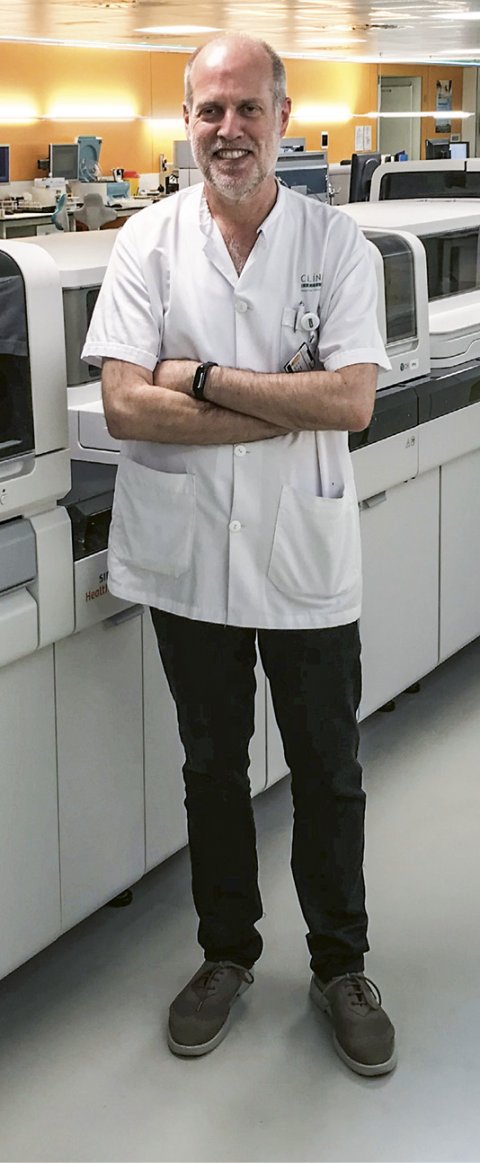 In working with Siemens Healthineers to develop the system the Hospital Clinic has streamlined its operation from ten analysers to just three Atellica Solutions. The Atellica Solution integrates immunoassay and clinical chemistry analysers with new sample-management technology. Scalable, it features bidirectional magnetic sample-transport technology, a broad assay menu and has the flexibility to create over 300 customisable configurations. It can be configured as a stand-alone system or connected to Aptio Automation, providing a multidisciplinary total lab solution and improving workflow with adaptable, multidisciplinary track configurations. A selection of pre- and post-analytical modules can automate sample loading, preparation, and handling to free lab staff from time-consuming, low-value tasks, plus simultaneous STAT and routine testing on a single track.
Of the three Atellica Solutions in the Barcelona lab, two are SCI configurations (sample handler, chemistry and immunoassay) while the third is SCCI with two chemistry modules. These deliver a wide range of routine and STAT tests. "Our aim with clinicians is to have the results from the STATs in less than 60 minutes and we achieve that," Bedini explained. "With Atellica, we have improved the turnaround time to 48 minutes – an important benefit." The 24/7 laboratory operates and handles 5,000 tubes daily, to produce 21,000-24,000 results per day.
Three Atellica Solutions – many results
"In the past, to have this portfolio of activity we needed many different analysers; now we do everything on just three Atellica Solutions. There are benefits for workflow, for technicians and patients, with less turnaround time and quicker results," he added.
The samples arrive from two routes – direct via a tube from the emergency department – or delivered to the lab from older parts of the hospital, such as the cardiology or kidney units. They go to the centrifuge, onto the track and to the Atellica. The machine knows what the sample is – for example a Troponin test – by reading a bar code on the tube, which is automatically de-capped before analysis and then sent to the relevant analyser.
In terms of workload, most is generated from in- and out-patient services at the 700-bed hospital, plus 800 – 1,000 samples daily from the phlebotomy area of out-patients. "Our workload is 55 precent out-patients, 45 percent in-patients, but we also receive samples from other hospitals for special tests," Bedini pointed out.
By integrating the most frequent automated tests, resources are released for more specialist tasks, whilst new features of the Siemens Healthineers' system – notably automatic maintenance, automatic quality control and calibration – offer further advantages. Previously, such maintenance required manual input and a 20-minute wait for the outcome before processing patient ­samples. "With Atellica you can schedule maintenance, quality control and calibration when you want. Now, when we come in, we only need to review the results because our controls and maintenance operations had automatically been launched at 5 – 6 am. That means we can then start with our patient samples one hour in advance, compared to the previous system. This is an important feature."

Source: Siemens Healthineers
Time-saving is significant
According to Bedini, the time saved, compared to six months ago, is significant. The main staff shifts end at the same time – around 3.30 pm – but they can start to work earlier, at 7.45 am, rather than 8.30 am. "Just by using Atellica we can improve our current turnaround time and, for us, an important indicator is that the physicians are happy. It's good for patients too, because they have the results faster – it's good for everybody, including the technicians, who tell me they feel more relaxed with Atellica."
The lab moved from the legacy system to Atellica Solution in a step-by-step approach, starting with urine samples, then chemistry and immunoassays and finally – when the system was stable and proven – the STATs, as the most critical element.
Lab automation has other benefits: "Just in tubes we've saved more than 900,000 euros, because in the past we needed 3 – 4 tubes per patient, one for chemistry, one hormones, one tumor markers, but now the same tube can be used – a benefit for patients because we need less blood." Yes, there is a money saving but also less patient discomfort, particularly for those who need frequent testing. A key facet of Atellica Solution, he said, is the ability to prioritise samples in the system; another benefit is the ability to use the same tube sample for different tests – a major saving in tube usage, Bedini noted. Tubes can be kept in the refrigerated storage connected to the Aptio Automation track after resealing, and if a tube is needed for an additional test, the system will locate it and remove the seal, send it to the right analyser and back to storage. Once a tube is finished with, it is automatically discarded and collected for incineration.
Atellica Solution has no stand-by mode and it's always ready to operate immediately, with technicians able to operate the system from a screen, or via a tablet nearby. For the Core Lab Operative Area at the Clínic de Barcelona Hospital, the implementation of the Atellica Solution has transformed the operation and offered clear benefits, with improved efficiency, faster turnaround of results and enhanced patient care.
Profile:
Dr José Luis Bedini studied medicine at the Universitat Autonoma Barcelona, where he earned his Master in Management and Direction of Clinical Laboratories. He also received a Master in Hospital Management and Healthcare Services from the University of Barcelona. From 1999 until 2002 he worked in the Clinical Chemistry Department at the Hospital Clínic Barcelona. Since 2002 he has been Head of the Core Lab Operative Area at Hospital Clínic de Barcelona.
More on the subject:
More on companies: