Sponsored • Product of the month
New test with simplified preanalytics for simultaneous detection of GDH and toxins of Clostridioides difficile in compliance with recommendations
The obligate anaerobic bacterium Clostridioides difficile is the most common cause of nosocomial, antibiotic-associated diarrhoea. The bacterium multiplies in the colon and produces highly potent toxins (toxin A, toxin B and binary toxin), which destroy the colonocytes and cause diarrhoea.
Since the disease can rapidly become fulminant with serious concomitant complications such as intestinal obstruction, tissue disintegration, perforation and sepsis, and laboratory findings often take too long, many suspected cases are treated empirically. However, this approach is incorrect in many cases with suspected C. difficile infections (CDI). Studies have shown that rapid test results reduce the number of empiric therapies for suspected CDI and increase the treatment quality.1,2,3
Sofia 2 C. difficile FIA is a new CE-IVD approved test from Quidel. In accordance with the recommendation of the European Society for Clinical Microbiology and Infectious Diseases, it enables detection of C. difficile specific glutamate dehydrogenase (GDH) and disease-causing toxins in a single test (4 and Figure 1). The recommended detection of free toxins in stool is of particular prognostic relevance, as it is associated with a worse course of the disease.5,6 Furthermore, inclusion of free toxin testing, as recommended, avoids potential overdiagnosis of CDI. Overdiagnosis is especially likely when molecular testing is performed as the sole test, as it also provides a positive test result in pure carriers of the pathogen, even when no toxins are present in the stool and the diarrhoea is not caused by C. difficile.6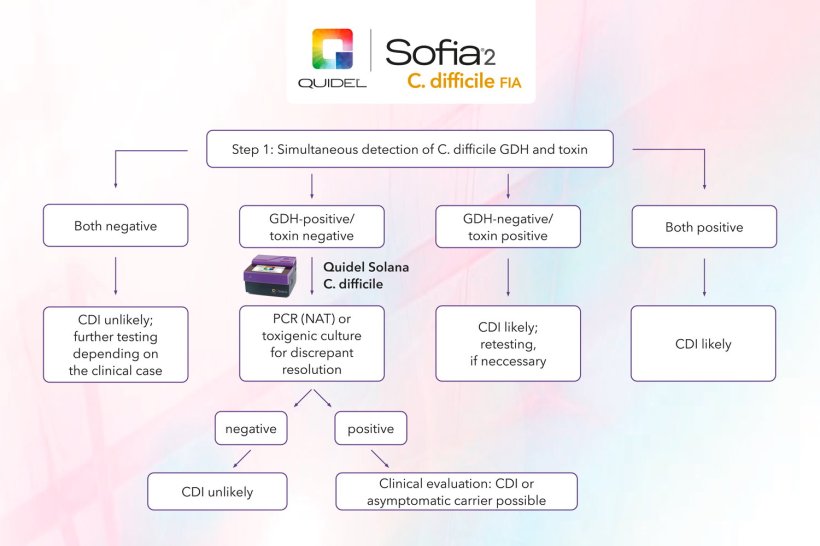 The greatly simplified pre-analysis is a key feature of the new test. The pre-treatment of the stool sample takes only 1 minute and requires two simple and mostly closed, contamination-free steps. It also eliminates the need for additional reagents and time-sensitive incubation times that prevent decentralised point-of-care testing. Moreover, the measurement and evaluation with the Sofia 2 fluorometer can be performed in the central laboratory as well as at decentralised laboratory workstations as a benchtop analysis device. It can be set up to communicate bidirectionally with laboratory information systems. After starting the test, a result is available within 15 minutes. This enables efficient and rapid testing in the central laboratory as well as at decentralised laboratory workstations (point of care).
Thus, Sofia 2 C. difficile FIA is a new solution to provide reliable and rapid test results with high clinical relevance before empiric therapy decisions are implemented.
Literature:
Contact information:
Quidel Germany GmbH
Kornwestheim, Germany
Dr. rer. nat. Jürgen Becker
Email: MarketingGermany@quidel.com
More on the subject:
More on companies: