Smart molecular diagnostic tools are on target
Personalised medicine is often equated with the development of drugs tailored to the genetic make-up of patients or cancers.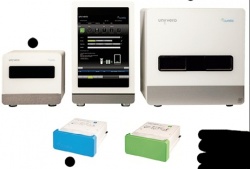 However, while this type of personalised medicine is still in its infancy, targeted treatment is already a reality in infectious diseases - thanks to sophisticated molecular diagnostic tools. If applied, this novel approach greatly improves clinical outcome and saves lives, as well as decrease the risk of antibiotic resistance development.
In hospitals the standard of care in serious infectious diseases is empiric antibiotic therapy. However, with growing drug resistance among pathogens, and mixed infections, this approach might fail.
Studies show that inadequate antibiotic therapy significantly increases the mean duration of hospital stay and mortality rate. Obviously insufficient treatment also supports the spread and development of antibiotic resistances.
The main reason for the empiric treatment approach is a lack of fast, reliable diagnostics to identify the pathogens and antibiotic resistances they carry. The current diagnostic standard approach is microbiology culture, a slow process that can delay targeted therapy by days. Other methods, such as PCR assays, often require experienced personnel and special laboratory equipment and usually they are not available around the clock.
To address this urgent unmet medical need, German medical technology and molecular diagnostics firm Curetis AG has developed Unyvero, a novel diagnostic platform that can process native clincal samples to identify pathogens and antibiotic resistance genes automatically within four to five hours. Thereby, the system supports an informed therapy decision as early as possible, Curetis points out.
'Our CE-marked Unyvero System is designed to detect a broad panel of bacteria, fungi and antibiotic resistance markers from a single native sample in one run,' said Dr Anne Thews, Medical Director of Curetis. 'It enables the DNA-based testing of all clinically relevant samples - body fluids such as sputum, aspirates, sonication fluids, as well as biofilm samples, swabs and tissues in a fully automated analysis process.'
The entire procedure takes a few, quick manual steps, followed by a few buttons clicked on a touchscreen. Thus the analysis can be performed in a few minutes, without the need of skilled staff or special infrastructure. The system processes the samples in a sealed, disposable cartridge providing all necessary reagents to complete the analysis.
'By combining endpoint-PCR with microarrays, we achieve a much higher degree of multiplexing than any competing approach,' Oliver Schacht, CEO of Curetis added. 'As an example, the i60 cartridge detects 114 analytes relevant for eight different clinical indications. In terms of pricing, our disposable cartridges are very competitive compared to real-time PCR products.'
Devices and cartridges are marketed in Europe, Russia, the Middle East and various other non-European countries. In the United States, Curetis is running a prospective multi-centre clinical trial aimed at achieving FDA clearance.
The first CE-marked Unyvero Cartridge, Unyvero P50, focuses on pneumonia testing and simultaneously analyses 39 DNA targets. In winter 2014, a new and expanded version detecting additional analytes, such as metallo-beta-lactamase, will be launched. The second CE-marked application, the Unyvero i60 ITI cartridge for implant & tissue infections, is also commercially available in Europe. Cartridges for additional indications, such as gastrointestinal tract infections, sepsis and TB are in various stages of development.
'We consider ourselves pioneers of personalised medicine,' Schacht said. 'However, we are not trying to identify sub-populations of patients for novel drug candidates.
'We are focused on maintaining the efficacy of existing antibiotics by avoiding the administration of drugs for which pathogens already carry resistances.'