Siemens Novius Lab receives award
Renowned research firm KLAS has named Siemens Healthcare's (NOVIUS Lab as the recipient of its 2008 Best in KLAS award for laboratory information systems (LIS) for large hospitals with more than 200 beds. The prestigious annual award is given to a vendor or product that scores the highest in its industry segment and meets all other Best in KLAS requirements.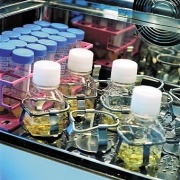 "As economic conditions become more challenging, healthcare providers are under tremendous pressure to make every investment – and every dollar – count," said KLAS President Adam Gale. "The Best in KLAS awards were created to help providers make smart buying decisions, allowing them to cut through the hype to identify companies, products and services that are the best-performing in the healthcare industry. The 2008 Best in KLAS honorees represent a select group of healthcare software and services vendors that have demonstrated leadership in working with customers to resolve issues and match expectations to reality."
Siemens' NOVIUS Lab enables laboratories to remain competitive by offering an open-ended architecture framework, where orders can be entered from multiple inpatient and outpatient facilities faster and more accurately. Laboratories can configure NOVIUS Lab's customizable rules to their own specifications to better manage their worklist, ultimately helping to enhance productivity. And, the laboratory information system easily manages sample transport and receipt among all institutions within an Integrated Hospital Network – a critical step for patient safety and specimen accuracy. All of this helps labs reduce costs, improve customer service, improve outcomes, and enhance efficiencies.
"We are very pleased that NOVIUS Lab has received such a resounding endorsement from our customers and KLAS," said Janet Dillione, chief executive officer, Health Services Business Unit, Siemens Healthcare. "The architecture is specifically designed to meet the needs of today's complex laboratories by supporting both the delivery of operations and point-of-care testing services."
MedCentral Health System, a Siemens' customer based in Mansfield, Ohio, installed NOVIUS Lab laboratory system in 2004 to achieve a comprehensive point-of-care patient identification system for its specimen collection operations. The effort was part of an ambitious, enterprise-wide effort dubbed "Project Expert Care" to replace the healthcare provider network's entire paper-based care delivery model with a seamless electronic-based environment.
"When the previous system was originally installed in the late 1980s, the lab was doing about 330,000 billable procedures annually," said Fred Crowgey, projects director for MedCentral. "In 2004, the lab volume had tripled to over 1 million in billable procedures. NOVIUS Lab has met our needs and continues to meet our needs as volumes continue to increase".
More on the subject:
More on companies: