Siemens Medica Press Conference
Siemens present both the status and future of the electronic case file
Siemens in collaboration with the Rhön -Klinikum and the Fraunhofer ISST announced that in December, they will start an electronic case file (eFA) pilot project. For the first time data will be exchanged between two reputable chains of private clinic. This makes Siemens the first industry partner to have realised the eFA specification of the Fraunhofer ISST including peer-to-peer communication in full.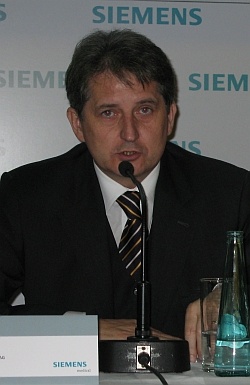 In the future, patient treatment from the primary sector to admittance and treatment in the hospital and follow-on care after discharge will be fully processed via the eFA. The initiative for the development and establishment of electronic case files (eFA) enabling reliable and diagnostic-related data exchange between healthcare service providers, was launched by a chain of private German clinics at the start of 2006. These include amongst others the Rhön -Klinikum AG, Germany's largest private hospital. Since the initiative began it has been joined by the Fraunhofer-Institut für Software- und Systemtechnik ISST, an IT consultancy company and by further hospital operators such as the Universitätsklinikum Aachen and the Vivantes Company. The initiative is actively supported by the IT industry which is currently testing the implementation and application of the eFA specifications in ten model projects. Furthermore, the providers of IT solutions for the healthcare system are actively involved in the enhancement of the specifications.
In contrast to the electronic patient file, the eFA only focuses on the relevant case of illness. This means that those involved in the treatment are only granted access to the data associated with the relevant treatment and not to the patient's entire medical history. Patients are thus reassured that the data are being used for one specified purpose.
The data can be viewed by all treating physicians and generated and stored in the IT systems of the relevant service provider. There is no additional central data management. These data may only be viewed following authentication, for example by means of the Health Professional Card.
More on the subject:
More on companies: