News • IT Solutions
Siemens Healthineers shows the power of data in the lab at AACC 2019
At the 71st AACC Annual Scientific Meeting & Clinical Lab Expo, Siemens Healthineers features in Booth #1039 its innovative IT solutions to combat the laboratory's staffing challenges, limited budgets, and the increasing complexity in sample management and testing.
"We will be demonstrating the power of our broad IT offerings and how the data they deliver, and artificial intelligence, can drive fewer errors and help create more efficient workflows in the laboratory for better outcomes," said Deepak Nath, PhD, President, Laboratory Diagnostics, Siemens Healthineers.
The Siemens Healthineers Atellica Diagnostics IT portfolio enables laboratories to unlock their full potential by leveraging data to optimize workflows. With easy-to-navigate user interfaces and centralized management of operations, the robust software solution enhances visibility into valuable business analytics that unify sample, process, result, and inventory data. These important features have enabled laboratories to achieve outcomes that matter, such as a 93 percent reduction in testing errors,1 an 85 percent increase in patient and staff satisfaction,1 and an 88 percent achievement rate for 30-minute STAT turnaround.2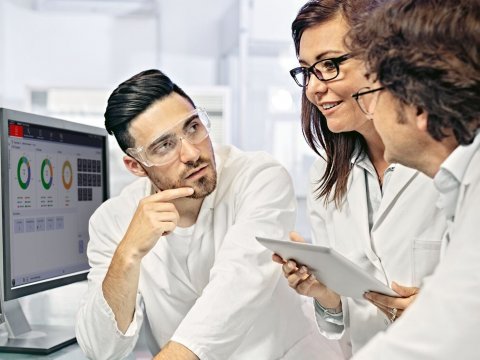 The Atellica portfolio pipeline includes the Atellica Asa Application,3 a tablet-based virtual assistant designed to simplify and organize operator interactions with the instruments. The goal of the Atellica Asa Application is to draw staff attention to a single interface with only the most common, yet critical, procedures needed to complete daily system operations. The tile-based software is designed to organize operator tasks by workflow and to reduce the number of screens used to complete a single task.
In addition to demonstrations of the Atellica Asa virtual assistant, attendees can learn more about LifeNet, an innovative online program that helps labs increase system utilization by providing a centralized platform to schedule system maintenance and view service history of connected Siemens Healthineers systems. Attendees also can explore the artificial intelligence-driven Guardian Program, which can help to predict certain system failures up to 21 days before they happen. By monitoring more than 80 critical components in real time, the Guardian Program can continuously detect potential issues and schedule repairs at a time that will not affect turnaround time, maintaining workflow during peak hours. Visitors to the Siemens Healthineers booth also can experience their own virtual reality journey through a simulated hospital environment to visualize in vitro testing and workflow possibilities based upon tailored needs.
Just out of the assay pipeline, Siemens Healthineers has achieved 510(k) clearance from the FDA for its N Latex FLC kappa and N Latex FLC lambda assays for monitoring multiple myeloma. The assays are confirmed to be highly precise and sensitive for free light chain quantification compared to the immunofixation method currently regarded as the reference method for detection of monoclonal immunoglobulins and its components.
Siemens Healthineers will also unveil a new product for point-of-care testing. "Point-of-care testing enables clinicians to deliver the right test in the right setting for their patients at the right time," said Christoph Pedain, PhD, Head of Point of Care Diagnostics, Siemens Healthineers. "Siemens Healthineers will be unveiling its newest technology for point-of-care testing—the RAPIDPoint 500e Blood Gas System." The RAPIDPoint 500e Blood Gas System,3 will be revealed on Tuesday, August 6 for product demonstrations.
Clinicians who use Siemens Healthineers products will speak about industry hot topics such as high-sensitivity cardiac troponin I, free light chain testing in the diagnosis and monitoring of multiple myeloma, and effective chronic disease management utilizing point-of-care testing.
1 Wen D, et al. Establishment and application of an autoverification system for chemistry and immunoassay tests. 69th AACC Annual Scientific Meeting Abstracts. 2017.
2 Columbus Regional Health leverages informatics and automation efficiency. Siemens Healthcare Diagnostics Inc. 30-19-13821-01-76. 2019 May.
3 Under development. Not commercially available. Future availability cannot be guaranteed.
Source: Siemens Healthineers
More on the subject:
More on companies: