Siemens Fully Automated ADVIA Centaur Syphilis Assay Receives CE Marketing Approval
Siemens Healthcare Diagnostics announced today that its ADVIA Centaur® Syphilis Assay1 for the detection of antibodies against Treponema pallidum, a bacterium known to cause the sexually-transmitted disease, syphilis, has been CE-marked. Now, laboratories outside the United States can equip themselves with a new testing tool for this serious condition and drive additional workflow and efficiency gains by combining it with other infectious disease testing on the Siemens ADVIA Centaur family of high-throughput, random-access immunoassay systems. The test is also currently under development for use on ADVIA Centaur systems in the U.S.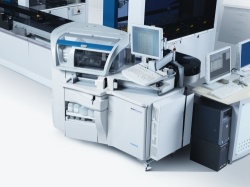 Syphilis has been called the "great imposter" because its symptoms can mimic other infections in advanced stages.2 When left untreated, syphilis can lead to serious neurological and cardiovascular complications, and cause stillbirth in pregnant women. Fortunately, detection of the presence of syphilis antibodies in patients may be used to support decisions for an antibiotic therapy, detect persons at risk to spread the infection and identify those that are not aware of their infection to prevent late complications. Recently, a meta-analysis of 10 studies involving 41,049 women found that screening and treatment of the infection in pregnant women could reduce by more than half the number of stillbirths and perinatal deaths resulting from maternal transmission of syphilis.3
"Testing for syphilis is a simple, yet effective tool for optimizing health outcomes in at-risk patients," said Dave Hickey, Chief Executive Officer, Chemistry, Immunoassay, Automation and Diagnostics IT Business Unit, Siemens Healthcare Diagnostics. "Consolidating syphilis testing onto a single system addresses a critical challenge of laboratories today— to improve operational efficiency while delivering fast, accurate results that help guide clinicians in identifying and caring for patients affected by this disease."
Additionally, Siemens offers an extensive portfolio of highly automated infectious disease assays (available on the ADVIA Centaur/XP/CP and IMMULITE® 2000 XPi immunoassay systems) compatible with laboratory automation. By consolidating a broad range of infectious disease tests on Siemens automation solutions, laboratory customers benefit from cost efficiencies by reducing laboratory technician time and that needed to produce patient test results.

1. ADVIA Centaur Syphilis Assays is not available for sale in US. Method availability is subject to local regulatory requirements.
2. Medscape. Available at http://emedicine.medscape.com/article/229461-overview#a0101. Accessed 6/10/11
3. Hawkes, S, Matin, M, Broutet, N, Low, N. Effectiveness of interventions to improve screening for syphilis in pregnancy: a systematic review and meta-analysis. The Lancet Infectious Diseases, Early Online Publication, 16 June 2011 doi:10.1016/S1473-3099(11)70104-9
More on the subject:
More on companies: