Service is the big plus!
The focus of China-based Shenzhen Emperor Electronic Technology is on ultrasound and IVD equipment.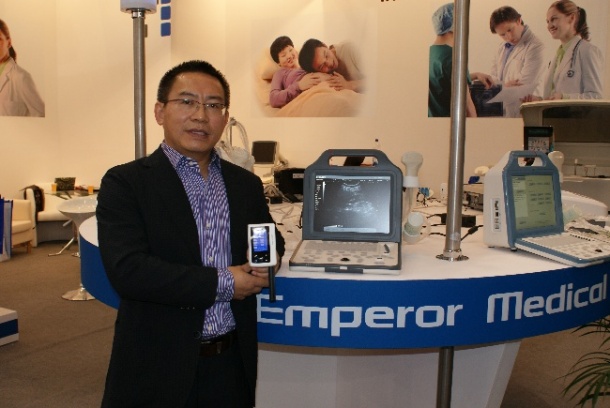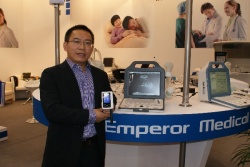 "We manufacture our products in China and sell to both the domestic and international markets", said Alpha Zan at the company's MEDICA booth in hall 16. All devices in the portfolio are CE marked. "The European market is very important to us," underlined the General Manager.
Key trends in ultrasound equipment
Where does ultrasound technology in China stand today? Zan has worked in the field for twenty years, and has been witness to a significant progress: "The overall quality of Chinese products has increased significantly, and so has functionality", said the general manager. The company creates its own technological designs and aims at the lower middle segment for its new Doppler, as well as the high-end segment for black-and-white devices.
Selling to Europe
Competition of products originating from China and elsewhere is fierce on the continent. With the generally high level of quality, the price issue, however, is losing importance. Service has turned into the key factor influencing the positioning of manufacturers, according to Zan. In order to achieve optimum levels in regarding support and maintenance, Emperor invites technical staff of distribution partners over to China for hands-on training; and expert know-how is also built by workshops held at the sites of these partners.
IVD is coming to patient homes
The population in China, and that many other countries, is ageing. Soon, demand will explode for devices which allow elderly, in many cases multi-morbid, citizens to stay home and manage their health from there … which, in turn, will avoid costly hospitalization. A new product developed by Emperor will help patients monitor vital data: the smallest portable urine analyzer in the world. Applied at a pre-defined screening frequency, this device will establish test results which can be transmitted automatically to the patient's physician for comparison with the profile and any required action.
Optimizing the equipment service situation for hospitals and supporting emancipated patients – benefits from this Chinese manufacturer are manifold.