Easing ultrasound operation
Touch system customises to user needs
Carestream Health, the medical imaging and healthcare IT specialist, presented its latest innovation, the Touch Ultrasound System at this year's ECR. This system offers a configurable all-touch control panel, a powerful processor, plus other innovative tools. European Hospital interviewed Andrew J Hartmann, the firm's General Manager of the Global X-ray & Ultrasound Solutions division, to explain how the new platform promises to improve user experience.

Interview: Daniela Zimmerman and Mélisande Rouger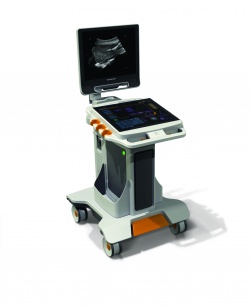 Carestream's long love affair with film is part of its Kodak legacy. What drove the firm towards creating innovations in ultrasound?
Film is a big part of our legacy and an important component of our business. We sell in over 180 countries and our business is expanding; but, beyond film, we are also a leader in digital X-ray, both CR and DR, as well as healthcare IT, printers, and dental solutions. We are a growing company and our customers are looking to us to expand into other modalities. Ultrasound is one of the fastest growing healthcare modalities and is a six billion dollar market today. It's certainly an area where we felt we could innovate and answer our customers unmet needs, while leveraging our existing sales and service infrastructure. Ultrasound is a logical step forward.
What do you think makes Touch so special?
One of the key differentiating features is the sleek, modern, all-touch control panel. The only button on the system is the Power button. The primary controls have the tactile feedback of traditional keys, via distinct etched patterns, while the unique design has the additional flexibility of configurable soft controls.
We like to think of ultrasound as a modality in which the user and the procedure define how the system should be set up – a little like adjusting the driver's seat in a car. When I log into Touch's system, it knows the way I like to drive it. This customisation will really simplify workflow. We also tackled the issue of sterilisation. The Touch's smooth, sealed surface makes it effortless to clean. The Touch cart has been designed with ergonomics in mind. There are multiple user adjustments to help minimise injury risk factors and also increase the user's efficiency and convenience.
Of course, image quality is of primary importance and the Touch system will have extremely high image quality driven by graphic processing units (GPU's) for fast response and low noise. Voice of the customer played a key role in our system design. We developed the system based on their daily challenges. We saw an opportunity to innovate.'
Do you listen to customers differently from your competitors, with their longer history in this field?
Not having legacy products allowed us to start with a clean slate and look at what's challenging in departments from a use-of-ultrasound perspective. What are the features and functionalities people are looking for, but cannot be found in today's solutions. If we introduced a product that was the same as everybody else's and wanted to become an ultrasound supplier, we could have just bought any of the small companies that have products.When we step into a modality our intention is to become a major player. When we presented our mobile X-ray system, the market was saturated and dominated by two or three vendors. We now own 25-30% of the market share – because we innovate and do things differently.'
Along with radiology, ultrasound is used in internal medicine, cardiology and other medical disciplines. Does Carestream have a position in those?
Our first entry will be for a premium product for general imaging in radiology. We have plans to expand the portfolio using the same architecture and same user interface for more value tier systems as well as other disciplines.
When purchasing for a hospital, economic constraints often have the last word. How do you address this issue?
The economic component is certainly a big part of the conversation. Carestream intends to design a family of systems from premium high-end to point of care, covering a variety of disciplines. All will use the same transducers and have the same user interface and the same architecture. This will allow facilities to maximise their return on investment by lowering training costs, as well as being able to share transducers across equipment and across departments. We are also developing a service strategy that will reduce overall cost of ownership and will make it easy for the facility to have high uptime and low maintenance costs.
More on the subject:
More on companies: