Sponsored • Shimadzu
Seeking the best systems
When the Medical Radiological Institute (MRI) at the private Bethanien Hospital in Zurich and the local hospital in Ærø, Denmark, needed new fluoroscopy and radiography equipment, they investigated quality, functionality, service quality and cost. Among systems examined was Shimadzu's Sonialvision G4, which has been completely revised, with innovations in all areas, including dose reduction and enhanced image quality, simplified processes and improved patient comfort.
'The premium application software offers the most recent improvements for diagnostic imaging. It supports useful applications, such as multi-slice imaging, slot radiography as well as DSA & real-time and motiontolerant RSM-DSA, which are all options to extend its functionality,' Shimadzu explains.
Multi-purpose needs in Switzerland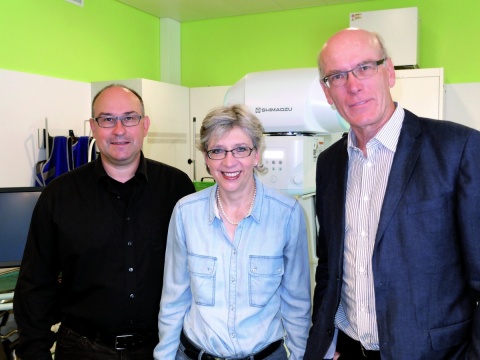 Dr Thomas Vollrath, board certified radiologist said that the MRI Bethanien needed to increase capacity with optimum use of existing space. Fujifilm Switzerland presented the institute with a multi-purpose examination room containing Shimadzu's high-performance R/Fsystem Sonialvision G4, combined with a ceiling-mounted 3D X-ray tube support, a bucky stand and an additional mobile FPD. Up to this, the institute had different systems in two rooms. The Sonialvision G4 now combines the former applications for fluoroscopy and radiography in one small examination room of only 27 m². 'This offers us the great advantage of patients no longer having to be moved, which is very comfortable for them,' notes Franziska Bissig, supervising radiographer. 'The mobile FPD is compatible with our second X-ray room and offers usadditional flexibility for further emergency and bedside examinations.'
Equipped with the largest available FPD at 43 x 43 cm, the X-ray table of the Sonialvision G4 offers large, long-view examinations of the patient from head to toe, so that the MRI Bethanien can also perform digital slot radiography. Very soon, slot radiography provides high-resolution, homogeneous and dose-reduced long-view imaging (e.g. full leg and full spine imaging). 'We have been able to improve in all respects,' Dr Vollrath concludes. 'The Shimadzu system is simply newer, more modern and more manageable.'
Bissig confirms that the image quality and intuitive operation shortening work processes soon convinced staff of its value. The combination of X-ray tube and detector covering the examination area more than 200 cm longitudinally without the tabletop having to be positioned is also welcome. 'In our small examination room we can thus avoid any possible collisions, for example with infusion stands,' Bissig adds. 'It's also very helpful that the patient mattress can be fixed to the top lateral mounting while standing and that the handles can be fixed quickly and easily.'
Roughly 30 km long and up to 8 km wide, Ærø is one of Denmark's Baltic Sea islands. The local hospital recently installed the
first Sonialvision G4 equipment in that country; therefore the hospital will be used as a reference when new customers want to see how it operates.
An X-ray image presented in two minutes
We have been able to improve in all respects. The Shimadzu system is simply newer, more modern and more manageable.

Dr. Thomas Vollrath
For Ole Gilberg, head of the X-ray department, the new equipment has much to offer: 'Earlier, it took 10 minutes to produce an image. With the new equipment we can present an X-ray image in two minutes, which means a lot when we have trauma patients from a car accident, for instance.'
In addition, the robust X-ray table can be lowered to 47 cm, thus giving easier access for children, older patients or patients with limited mobility. It also allows bariatric studies with a patient load up to 318 kg in horizontal position. Another plus: 'The fully flat table top and built-in cable system of the X-ray table is a good improvement in terms of hygiene and workload,' Gilberg adds.
Details: www.shimadzu-medical.eu
More on the subject:
More on companies: